Olympus Zuiko Digital ED 50mm f/2 Macro
This 50mm optic from Olympus, designed for their 4/3rds system, is billed as a macro lens but with a reproduction ratio of only 1:2 it is, in truth, a close focussing lens rather than a true macro and they are using the crop factor to pretend it is a true macro lens. We take a look at how it performs.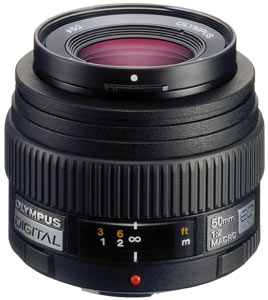 Specifications
Focal length 50mm
Max Aperture f/2
Angle of view 24° (on 4/3rds mount)
Construction 11/10 elements/groups
Closest focus 0.24m
Filter size 52mm
Dimensions 71x65.1mm
Weight 0.30kg
Mount 4/3rds system
Price (RRP)
Build and handling
Olympus claim that this lens is a pro spec and therefore splash proof. It certainly seems well made and there are no loose or wobbly bits, even with the front element extended by the 35mm it comes out of the body at its closest focus point of 240mm. Unfortunately, to get it there, the AF system makes a low grating noise and it is certainly not quick. Once the lens arrives at the point of focus, it gives a couple of jerks, as if to check for itself that it is in the right place. Having made up its mind, it is accurate.
The only control on the lens is the manual focus ring, and this can only be made operable through the camera menu. When activated, it requires two and three-quarter full turns of the ring to make its way through the range with the same grating noise as the AF makes. When the camera is switched off, the lens retracts automatically to the infinity position. There is also a distance window placed centrally on the barrel and marked in both metres and feet but no attempt at a depth-of-field scale. The seven-blade aperture will only stop down to f/22 which is a little shy for a full macro lens.
Optical quality
The optical qualities of this lens are quite good. Controls of chromatic aberrations are some of the best we have seen, with measurements in Imatest being in the tiny fractions of a pixel. Contrast is also fairly good and the colour balance is neutral. As you would expect of a modern prime lens, the control of distortions is also good, with a figure of 0.4% pincushion measured in the distortion module and undetectable by eye.
Resolution is reasonably good with only the widest apertures dropping off at the edges a little more. However, for a Macro lens, the resolution average peaks far to early, hitting its top spot between f/4 and f/5.6 and we feel it would make a far better lens for portraiture than macro-photography where smaller apertures are the norm.
| | |
| --- | --- |
| With the 2x crop factor of the 4/3rds system this lens is well suited to subjects like flowers where you need a little space between the subject and the camera. | The contrast is fairly good, as seen here on this shot of lichen |
| Here, a 100% crop from the centre of the full frame at the closest focus point of 1:2 shows the detail the lens is capable of recording. All shots taken on Olympus E-500 | |
Click on each comparision photo below to view full size versions
Below is our lens test data. To find out how to use these graphs look at this article: How we test lenses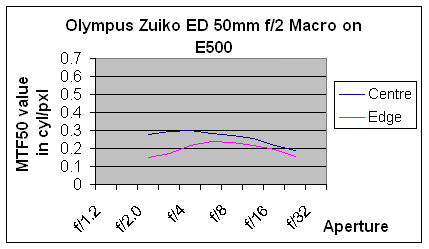 Verdict
With many people utilising manual focus and using a rocking technique for macro-photography, the restrictions of this lens and its system would soon become exasperating although for table-top use the lens is adequate. However, with a reproduction ratio of only 1:2 it is not a true macro lens. On the 2x crop factor of the 4/3rds system, it would be far better utilised as a portraiture lens. It can be used with Olympus' EX25 extension tube to achieve a ratio of 1:0.98 but even that is not quite true macro.
In summary, the positive points of the Olympus Zuiko ED 50mm f/2 Macro are:


Good build quality


Good optically, although peaks early for a 'macro'.
The negative points are:


Focussing system is atrocious.


Only 1:2 reproduction ratio, not true macro.


Cheaper alternatives with better performance on their way.
Check the latest price for the Olympus Zuiko ED 50mm f/2 Macro here
Discuss this lens and other related lens subjects here
Test by Ian Andrews www.wildaboutkent.com
I forgot to mention the issue of "cropping factor" which was raised in the Photodo review. The reviewer said that the lens "pretends" to be a full macro by adding in the crop factor. But it should be kept in mind that this lens was designed specifically for the 4/3 sensor of the E-system cameras. There is no cropping of the image at the focal plane. The full image circle is utilized.
hi i have a question i bought OLYMPUS-EVOLT 500. and i am looking to get a lens that is the best to take pictures of my new baby, and that is reasonably priced. my friend has a canon and he bought a 50mm lens for about $130
Add your message
photodo Stats
1102 lenses
428 MTF tests
74 in-depth photodo reviews
100+ users join each day
Help the lens community by reviewing or rating a lens today via our
lens search