Canon EF 300mm f/4 L IS USM
This 300mm prime lens from Canon is a popular choice among advanced amateur photographers as well as professionals due to it's relatively compact dimensions and price tag. Available for inside the $1000 mark, we take a look at what you are getting for your money.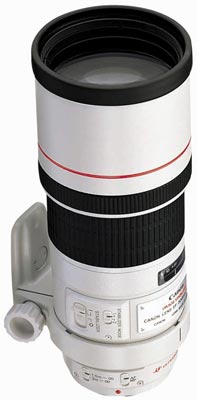 Specifications
Focal Length 300mm
Max aperture f/4
Min aperture f/32
Filter size 77mm
Closest focus 150cm
Dimensions 90x221mm
Weight 1.19kg
Price £1049.99
Build and Handling
As a 'white' L class lens this Canon offering is built to last. The metal bodied barrel is of the 'drainpipe' type, being almost constant in diameter throughout its length. The slightly narrower collar just in front of the mount allows finger room next to the camera's grip and on the opposite side carries the two switches for AF/MF and focus limiter that allows 3m to infinity and the full scope of 1.5m to infinity. Next up is the tripod mount collar with a single position foot and a ribbed knob for fixing. Strangely, although the collar has a central mark, there are no markings on the lens to line them up with.
Next along the barrel, on the left side, are the IS (Image Stabilisation) controls consisting of two slide switches. The lower, larger one is the on/off and the smaller, upper one controls the two modes. The first is for static shots and the second is for panned shots. Across the centre of the barrel in front of the manual focus ring is a standard distance window marked in metres and feet.
The manual focus ring is a good 50mm+ in size with a nice, rubberised ribbed surface that is easy to grip. The model I had had a slight forward and backward play in it, but this was not enough to be annoying. The autofocus is silent in operation although, for an L lens, it did seem a little sluggish even on a 1 series camera! The manual ring does not rotate during autofocus and is nicely torqued when over-riding or manual focussing.
Forward of the focus ring is a sleeved, built in lens hood that slides back and forth and is locked with a quarter anti-clockwise turn. Once locked, it stayed in position well.
The weight of the lens, not excessive for the type, gives a feeling of being fairly bomb-proof and solidly built.
Optical Quality
Distortion is well controlled, with a pincushion effect of only 0.254% recorded with the Imatest module. Contrast and colour rendition are both up to Canon's normal standards with a slightly warm colour and good contrast.
Out of focus highlights are nicely rendered and the resolution is maintained across the full width of the frame. The resolution is not stunning and this is an area where some of Canon's older designs are starting to appear slightly dated in the digital age. The results, however, were very pleasant to the eye and the shortcoming will not be noticed on the majority of today's cameras.
Canon claims two stops for the image stabilisation and I found no reason to doubt this. When shooting static subjects the IS is certainly a help, especially with this kind of focal length which is on the edge of where most people think they can hand hold.

The straight lens, set at f6.3 and taken at 1/320sec on the 1D makes a good length for Zoo work. Closing down just over one stop has given the right depth-of-field for this portrait.



The lens produces a nice effect on the OOF background. 1/250sec at f/6.3 and ISO 320.


At 1/320sec and f11 on a 1D this hand held shot, taken with a 1.4x converter attached, is nice and sharp.

Despite being mounted on a 1 series camera, the lens with a 1.4x converter attached never quite kept up with this eagle in flight. All shots 1/500sec at f/8. ISO 200



Click on each comparision photo below to view full size versions
Below is our lens test data. To find out how to use these graphs look at this article: How we test lenses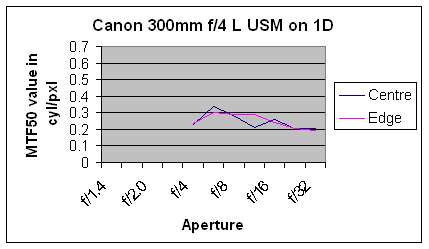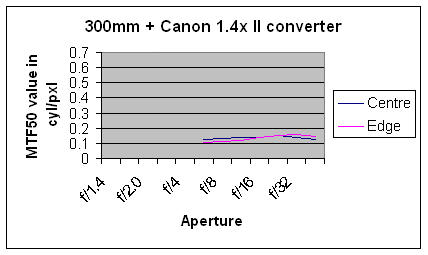 Verdict
The build quality alone qualifies the price of this lens, which appears as though it will outlast any owner! The built in hood is a neat touch that just about escapes getting in the way of filters. The only let down is the slightly sluggish (for the class of lens) autofocus. Use of a 1.4x converter with it retains the AF but slows it even more. If you can live with that one drawback, it will last you a long long time!
In summary, the positive points of the Canon 300mm f/4 L IS USM are:


Excellent build quality


Good contrast and colour rendition


Retractable lens hood a nice touch.
The negative points are:


AF a little slow for class of lens


Resolution may not be up to future sensors (although pixel race has now slowed)
Check out the latest price for the Canon 300mm f/4 L IS here
Test by Ian Andrews www.wildaboutkent.co.uk
I feel it is a little strange, that among the CONs you can read "not stunning resolution" in the review on this website.
EVERYWHERE reviewers do agree, that the sharpness and resolution of this lens is excellent.
For example - try these links:

The Digital-Picture.com :
www.the-digital-picture.com/Reviews/Canon-EF-300mm-f-4.0-L-IS-USM-Lens-Review.aspx

Photozone.de
www.photozone.de/8Reviews/lenses/canon_300_4is/index.htm

FM Reviews :
www.fredmiranda.com/reviews/showproduct.php?product=39&sort=7&cat=2&page=2

EOSpix.com :
www.eospix.com/reviews-24.html

BobAtkins.com :
www.bobatkins.com/photography/reviews/300-4.html

Wlcastleman.com : www.wlcastleman.com/equip/reviews/300mm/index.htm

When you are reading about this lens at photo websites, then you get the feeling that the testers behind Photodo are still going to defend that sensational modest rating of this lens given in the past many years ago. I think, that they might have got a sub standard copy. It is a matter of fact, they seem to very isolated with that point of view.
The lens is similar to the Nikon AFS 300/4 (lacking VR though). I saw many results from the Canon lens, and indeed - optically it's very close to the Nikkor 300/4 AFS which I own. This is a terrific lens. You might have gotten a "lemon" for testing.
Your own samples look great - like the door shot for example(although a bit oversharpened).
From the old Photodo tests, this lens is less sharp than the older non IS version. Nikon's version is sharper from the images known to me. However, the Minolta one I used once was the worst of all
Regarding websurfer's comment, why should other reviews have any bearing on this one, how you intepret this finding is for you to decide, but wouldn't it defeat the purpose if they weren't independent? Constructive comments based on personal experience are welcomed, but using other reviews as basis is just silly IMO. I'm only commenting on this because I wouldn't like to see photodo's independent views discouraged.
One of the things that I do not do is read other reviews of lenses. Ever!
And that includes any old Photodo ratings!
However hard I might try to ignore other opinions, there would always be that niggle in the back of my mind if I did. Therefore, I don't read them, either before or after doing a test. That way you get reported exactly what I find with the lens I am testing.
Certainly there are variations in manufacturing quality, as I have proved
here
and in other places.
With new lenses, it is a simple matter of getting one from the manufacturer for review. With older models, some of which have been around for a few years, the optic supplied can be rather battered and suffered from a certain amount of abuse in that time. The results of any test will show that abuse.
Whichever is the case, you get an unbiased view of the optic on test without predetermined opinions formed by other people who may or may not have vested interests.
Ian
A lot of users have discovered that the old version without IS is sharper. There is more glass in the IS lens.
So if sharpness and resolution is very important choose the old one.
I owned this lens for about a year,...and I agree...it isn't that stunning of a performer..

I also owned the 300mm f2.8 L, Non-IS for nearly 10 years,...and that was a super performer.. very sharp, very contrasty.. very reliable..the f4 IS version was nice and light, it could certainly focus a LOT closer,..but that's about it.. it didn't come with focus preset, but it was nice and light, and compact... that's where the trade off was.. The images were good.. but they really didn't compare well to it's big brother..

JP
This review of the IS version appears when I´m browsing the old "nonIS" version.
Sorry Ian for my first contribution to this debate. I think you are doing the right thing, never looking back and reading old reviews. I have only been reading reviews of this lens, and had just found the result of your review a litte strange compared to others, but according to reactions above something tells me that you are somehow right.
Get the Non-IS! Cheaper and better. "IS" should not be implemented on lens itself, but camera body.
Add your message
Login required
Please
login here
or if you've not registered, you can
register here
. Registering is
safe, quick and free
.
photodo Stats
1102 lenses
428 MTF tests
74 in-depth photodo reviews
100+ users join each day
Help the lens community by reviewing or rating a lens today via our
lens search