Sigma 70-300mm F/4-5.6 APO DG Macro
This lens is one of two virtually identical offerings from Sigma in the extremely popular 70-300 category in which almost all manufacturers have at least one contender. Although still in the budget sector, this one, the APO version, is the better of the two offerings. We take a look at what you get for your money.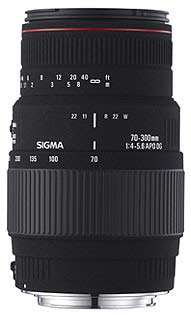 Specifications
Focal length 70-300mm
Aperture f/4-5.6
Angle of view 34.3-8.2°
Filter size / type 58mm
Construction Elements/groups 14 elements in 10 groups
Focusing type Rotating & extending
Closest focus 1.5m (0.95m in Macro mode 1:2)
Weight 0.55kg
Dimensions (Dia x length) 76.6x122mm
Mounts available Sigma, Canon, Nikon, Minolta, Pentax
Tripod bush No
Price £199.99
Build and Handling
Physically identical to it's cheaper, non APO sister lens with the first 12mm given over to accommodate the AF/MF switch situated on the left of the barrel, the next third is occupied by the zoom ring which is marked at 70, 100, 135, 200 and 300mm. Although not hard to move, you do know you are moving a fair amount of glass as the front element travels forward some 55mm through the range.
The next part of the barrel has a basic depth-of-field scale marked and, again on the left, carries the switch to enable 'Macro' photography. The final 25% of the barrel forms the focus ring, which, in manual focus, is nicely torqued. Once switched to Autofocus, it cannot be over-ridden and becomes stiff for that reason. In normal mode, focussing can extend the lens a further 17mm. There is a red ring around the lens to denote the APO version, which is needed if you have the two lenses side by side!
One of the features of this lens is the 'Macro' mode, which allows photography to a ratio of 1:2. Not true Macro, but a useful feature just the same. It works between the focal lengths of 200-300mm and is engaged by sliding the switch once the lens is extended past 200mm. This allows the focus ring to travel further, and the lens to extend another 14mm, in order to focus closer. This brings the total extension, at 300mm and at the closest focus, to some 86mm. At this length, more than half of the lens is rotating during focussing, which can be awkward to hold still. The AF performance is adequate for a lens in this price bracket. Not fast, but quick enough for most purposes and although the motor makes a noise, it is not so noisy as to scare off the target.
Optical Quality
This is where this APO lens differs from its sister, utilising two extra SLD (special low dispersion) glass elements in the front group, making three in total. SLD glass is denser, accounting for the slight increase in weight over the lesser lens.
As is normal with this type of zoom lens, performance is better at the shorter focal length, tailing off a bit as the zoom is extended. However, unlike some, the drop off is not too marked and in its class, this lens performed well throughout the range.
The extended focus, providing the 1:2 macro facility, is especially useful and performed well giving good definition at close quarters. The new multi-coating, which gives the lens it's DG (optimised for digital) classification, helps a design that is good to start with, that extra bit of help in controlling artefacts. CA is well controlled and distortion reasonably well managed, although there is a slight pincushion effect at the 300mm end. (Easily cured in software on digital images)
The extra SLD elements do indeed help to improve the resolution.

Above and below: Shot at focal lengths of 190mm and 70mm from the same spot. Both at f/8 in aperture priority on a Canon 300D.


Used in Macro mode, this lens shines as this shot of a Southern Hawker Dragonfly in flight shows. Taken on a Canon 1D with the lens set to manual focus. 1/800sec at f/8 and ISO500

These views of the local Lifeboat along with a relief boat show the versatility of this type of zoom lens.




Due to the compact size and weight of the lens, it is one that you are likely to have with you when you come across something unusual. Wild hops are not common, even in Kent. 1/1600 at f/8, ISO400 and 300mm in Macro (close focus) mode. Canon 300D


Despite not being the fastest of lenses, it is still usable in low light conditions. This five bar gate at the end of a country lane was taken at 1/80sec at f/8 and 70mm. ISO400. Canon 1D.

Click on each comparision photo below to view full size versions
Below is our lens test data. To find out how to use these graphs look at this article: How we test lenses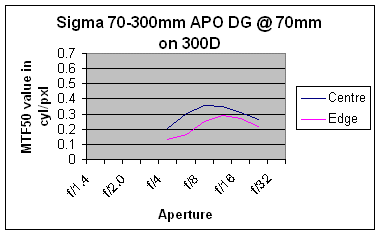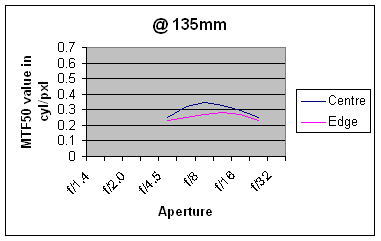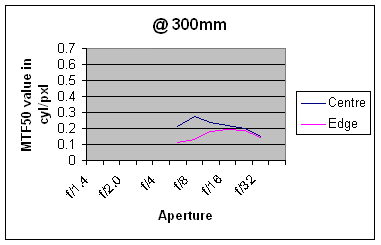 Verdict
Prior to the DG upgrade, this lens already had an enormous reputation for its picture quality compared to its price. The upgrade has only enhanced this. The usefulness of the lens is greatly added to with its ability to focus down to less than a metre and anyone wishing to photograph large insects such as butterflies or dragonflies will find it one of the most useful lenses for this discipline, being light enough to carry on a neck strap all day with the focal length allowing the luxury of not needing to get too close. Many of these types of insect are too large for 1:1 photography in any case!
In summary the main positive points of the Sigma 70-300mm F/4-5.6 APO DG Macro are:


Excellent optical performance for price.


Good close focus ability (1:2)


Light enough to carry all day.
Negative points are:


Long extension when close focussed and zoomed.


Front element and extension rotates during focussing
Check the latest price of the Sigma 70-300mm F/4-5.6 APO DG Macro here
Test by Ian Andrews www.wildaboutkent.co.uk
Hi, is there any difference between this lens and the same version marked as SUPER? Thanks, Alan.
I purchased the APO version some time ago for my Nikon D70s camera, both of which I have since sold to a friend having won Canon equipment in photo competitions. I found this lens to be really quite amazing for the price. It really is VERY sharp, right from wide open at f/4. Quality only takes a dive at the smallest aperture, due to light diffraction. I remember, I made prints of sections of images blown-up to 20" x 30" in size (that 'is' INCHES!) and the quality was still extremely good. It wasn't even necessary to stand back 3 feet to appreciate it either, being very obvious at normal viewing distances for a 8" x 6" print.

The macro facility, although not strickly speaking truly 'macro' at 1/2 life size is extremely useful and the lens still produces superb quality even at such a close focusing distance. My friend still loves this lens and to be honest, if it had been in Canon fitting, I would have kept it!

David Chamberlain
Add your message
Login required
Please
login here
or if you've not registered, you can
register here
. Registering is
safe, quick and free
.
photodo Stats
1102 lenses
428 MTF tests
74 in-depth photodo reviews
100+ users join each day
Help the lens community by reviewing or rating a lens today via our
lens search