Carl Zeiss ZF are the sharpest SLR lenses they have ever produced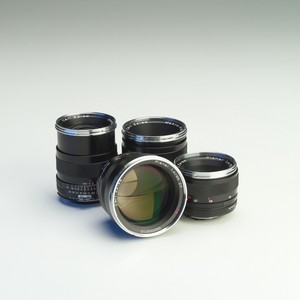 Carl Zeiss proudly the proclaim that their new ZF lenses designed for Nikon SLR cameras are the sharpest SLR lenses they've ever tested.
Details from the newsletter include:
The new ZEISS ZF lenses went to test for resolving power recently. Attached to a Nikon F6, which was mounted on a Sachtler heavy duty tripod, we exposed our Eastman resolution test chart onto Kodak Imagelink HQ film. The best we had ever achieved before with any SLR lenses was 250 lp/mm.
The new Planar T* 1.4/85 ZF achieved that same resolution at f/5.6, and even down to f/2.
The new Planar T* 1,4/50 ZF went even further: It reached 320 lp/mm in the aperture range from f/5.6 to f/2.8, and 250 lp/mm at f/2.
What we are saying is this: Carl Zeiss lenses are capable of capturing enormous amounts of information, if required, and will not be the limiting factor in the imaging process. Knowing that the lens you are using is the strongest link in the chain always inspires confidence, and may be critically important in some cases.
Pricing and availability:
The prices quoted in the Carl Zeiss newsletter are in Euros, we have converted the values to sterling to give a rough approximation of the price in the UK.
Planar T* 1.4/50 ZF: 400 approx
Planar T* 1.4/85 ZF: 800 approx
The lenses can be ordered from April 1st, 2006.
Has anybody already any experience with these lenses. And is willing to share it's findings?
I'm using the 50 mm for a couple of days now. It is solidly built in general. Aperture ring works with half stops (but the half stop indication in the D2X viewfinder is rounded up to the next full stop). Too fine-ribbed focusing ring has excellent progression, but lacks the comfortable rubber Nikkor touch. Metal sun hat is felt-finished (mount-type). Lens protection cap is very cheap and difficult to fix without removing the sun hat.
Color rendition: perfect; distorsion (as perceived by DX sensor): perfect. Image clarity is phenomenal; contrast & sharpness seems to be ok although not tested yet rigorously. I can see major quality improvement as of f2.8; at f4 and especially f5.6 the results are stunning. flair not tested yet accurately, but in the field it seemed more than ok.
These lens have just been added to Photodo.

StefDevos - If you'd like to post a user review, I'm sure others would find it valuable.
My initial impression is that the performance in pure optical terms is stunning....

Watch this space!

Ian
All I here is about a lens I can not get in the U.S.at a
good price. they want 600 dollars us in the UK+VAT
Hmmm...
interesting and valuable alternative test here.

http://www.16-9.net/lens_tests/zeiss_85mm/zeiss85mm_1.html
This sort of resolution matches the performance of Kodak Technical Pan film, although, sadly, that is not now available. However, unless we use a really solid tripod and a very slow film or CCD speed and have a totally still subject bald resolution is not going to be achieved, nor is it the only factor in the quality of a lens.

Incidentally, resolution and sharpness are not the same thing....

John
I HAVE USED THE ZEISS LENSES WITH CONTAX AX AND ARIA AND WITH CONTAX G-2. THE LENSES WERE THE BEST I HAVE EVER USED EVEN WHEN COMAORED TO LEITZ OR THE BETTER NIKON-SHAME KYOCERA DROPPED THE LINE-

LARRY
S
I would agree with the last statements about Zeiss. Today there are totally crap lenes and very good to excellent. Of course I buy only name brand lenes that are made by Nikon. Time tested by almost evey Pro Photographer and Photojournalists everywhere on the planet.
Zeiss was no doubt one of the best since the Second world war untill about the late 50's when the Japanese got the act together and have out performed the German made lenes since. Salesmen are salesmen and I know that Nikon lenes don't need to be sold at all.!!
I have both the 25 mm and 50 mm Zeiss ZF lenses and use them on my Nikon D200. Having used both Hasselblads and Leicas in the past I know a good lens when I see one and the results from these new Zeiss lenses are superb. Royzone may be right that Japanese lenses( incidentally, these Zeiss lenses are made in Japan from a German design ) are now very good but there is a certain rightness about the Zeiss lenses that other makes just do not have, both image wise and buld wise. I use my Planar 50mm all the time and at f1.4 the images I get are absolutely beautiful. It can make even the most mundane subject look incredible.
I love these lenses so much that I have a dedicated zeiss gallery at www.zeissimages.com
Add your message
Login required
Please
login here
or if you've not registered, you can
register here
. Registering is
safe, quick and free
.
photodo Stats
1102 lenses
428 MTF tests
74 in-depth photodo reviews
100+ users join each day
Help the lens community by reviewing or rating a lens today via our
lens search