The A to Z with Tamron
Tamron advertorial
Peter Bargh set about a themed photo shoot based around the letters of the alphabet. His challenge was to shoot each letter of the alphabet with one lens, the Tamron 18-270mm superzoom, in one afternoon.

Tamron 18-270mm Di II VC PZD
The Tamron 18-270mm f/3.5-6.3 Di II VC PZD is the
A to Z of lenses. This one lens offers everything you could need from a lens in one small package. It weighs just 450g and is just 96mm tall, so it fits in a small camera bag and is easy to carry around all day. This makes it an ideal travel lens and, with its 18-270mm range, it's capable of covering just about any eventuality so you won't get caught short.
My project, to shoot subjects that form letters of the alphabet, is a simple idea for a theme but can be a challenge to find certain letters. An easy one is 'O' and I found this almost as soon as I set off.
This one wasn't a challenge for the lens either. It was a floor light for the City's war memorial statue. All I had to do was stand over it, centre the lens and adjust the zoom. With O in the bag I set off to find the other 25 letters.
I wandered down through one of the small gardens and spotted an empty flower bed which was a good choice for the letter D. This needed the lens to be set slightly wide as I couldn't get enough height from the ground.
Some letters will jump out of the subject at you with ease - A, X and H came soon after.
A is the corner of a theatre building. I had to use the longer end of the zoom and here the VC (Vibration Compensation) came in ensuring I could hand hold at the longer focal length. X was part of a grid on the road indicating keep clear. I used the zoom to frame the letter out of the larger grid. H is a pair of supporting posts for the electric tram cables. To get the H shape I had to shoot a distant pair of posts and the lens was used at full extent. Again the VC helped here.
But then I started to struggle. I found it easier to think about one letter at a time so my mind could work harder allowing my eyes to hunt out the letters. Time to get organised. I wrote all the letters down, crossed off the five I'd found and then set about finding the others, one by one.
At the end of the afternoon the car park ticket had run out and I'd failed my challenge. I only had 23 of the 26 letters on the memory card. The 18-270mm on the other hand had been a total success letting me capture the near and far, the small and large, the straight and the curved, in sunshine and shade. I was very pleased with this lens in all aspects, light weight, versatility and optical performance. While shooting the alphabet I'd also come across many interesting subjects and was able to get each one with ease, from candids using the sneaky long telephoto, to architecture using the wide angle.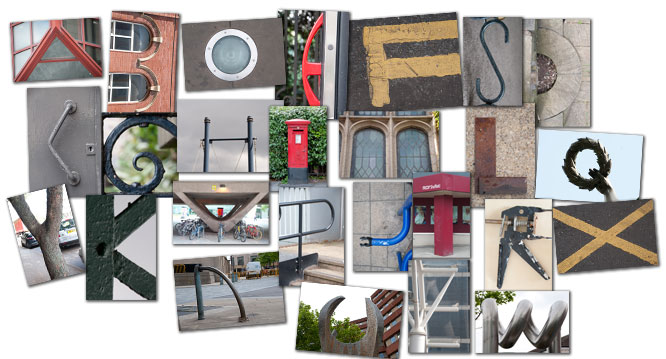 All in all a very enjoyable afternoon, apart from the blisters! In the five hours out I'd walked 20km in total. My legs ached and my feet had blisters, but surprisingly I had no complaints from the shoulder from carrying the lightweight lens... so there's another positive.
When I returned home I adjusted the size, shape and crop of each photo letter using Photoshop and arranged them in a grid to create a rectangular photo of my A to Z.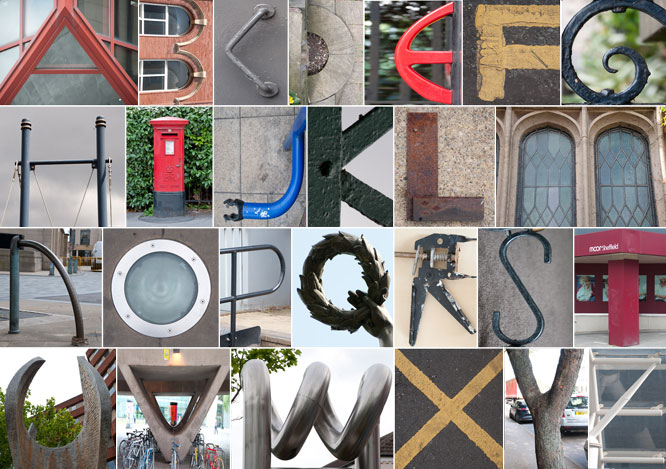 An A to Z of Tamron Lenses
Tamron lenses like the 18-270mm include an ASPHERICAL LENS element. This is glass with a more complex surface profile which is designed to replace multiple elements, while also reducing spherical aberrations. The benefit is a lens with reduced size and weight along with improved optical quality.
The lens' diaphragm is constructed with a number of BLADES that adjust to form the aperture. This controls the amount of light passing through the lens to the camera's sensor (or film). The 18-270mm has seven which make a good shape to out of focus highlights.

Due to the advanced design the 18-270mm VC PZD is COMPACT and also the World's lightest 15x zoom lens weighing in at just 450g.
Di Stands for DIGITALLY INTEGRATED DESIGN – Tamron lenses in this class have had lens coatings optimised to minimise ghosting and flare when used on digital cameras. Di II lenses go a stage further by being designed exclusively for cameras with the smaller APS film sensor.
All lenses are made up of a number of optical pieces of glass that are arranged in groups to allow light to pass through in an ideal path and form an image on the camera's sensor (or film). The individual pieces of glass are known as ELEMENTS.
For a lens of this range it's impressive that the FILTER THREAD size of this Mk II version is just 62mm - the older version was 72mm!
The individual glass elements of a lens are assembled in collections know as GROUPS. The grouping is usually decided by computer to ensure light travels through efficiently and maintains maximum quality on the camera's sensor (or film).
The 18-270mm lens is responsive and focuses fast on the subject thanks to the HIGH SPEED ultrasonic motor.
Some lenses have an outer focusing mechanism which means the front optic rotates. This is bad if you're using filters such as polarising and graduates where the position is vital. The 18-270mm has INTERNAL FOCUSING (IF) so the front stays in a fixed position. This becomes even more important now when using filters in the video mode.
Your friends will be JEALOUS when they see what you can do with this lens! OK a bit tenuous, but I was stuck for a lens specific word that began with J!
The 18-270mm can be crowned the KING of lenses thanks to its incredible zoom range, fine performance and compact/lightweight size.
LOW DISPERSION glass, abbreviated to LD, is a type of glass used in Tamron lenses that is included to reduce chromatic aberrations and prevent colour fringing around the subject.
The 18-270mm has a 1:3.8 maximum MAGNI-FICATION ratio throughout the focal length range, which helps when photographing close-up subjects such as flowers.
A NORMAL lens (standard lens) is classed as a lens with a magnification similar to the human eye. The 18-270mm includes this "normal" focal length, but goes about three times as wide and six times more magnified.
Interchangeable lenses like the 18-270mm have an OPTICAL ZOOM range. Sometimes you can get similar range from a digital camera but it's often digitally created.

PIEZO DRIVE, marked as PZD on a lens, is technology behind the silent focusing system of Tamron lenses. See the video with full explanation here Operating Principles of the PZD
The 18-270mm is QUIETER than a whisper thanks to the Piezo drive technology. This makes it useful for nature photography and candids in quiet places where a normal focussing mechanism would be making whirring noises.
RESOLUTION is the lens' ability to record detail sharply, often referred to as resolving power.
SUPERZOOM is a designation for a lens with a really wide range of focal lengths. The Tamron 18-270mm lens fits in this category along with Tamron's 28-200mm and 28-300mm.
TAMRON is one of the leading independent lens brands founded in 1950 with lenses for all popular SLR makes. Tamron were the first manufacturer to mass produce a zoom lens 50 years ago in 1961.
The motors used in the Tamron lens are powered by ULTRASONIC vibration so the operation is silent, faster and precise.
The 18-270mm has a VC (VIBRATION COMPEN-SATION) designation, which means it can reduce camera shake by up to four stops. This is thanks to gyro sensors that detect vibration and adjust the VC lens element so it stays parallel to the image plane to compensate for any movement.
With a WEIGHT of 450g the 18-270mm is 100g lighter than its predecessor and quite a feat for a lens with such an impressive zoom range.
X is the magnification ration of the zoom, in the 18-270mm that's 15x. This is the largest ratio available and introduced by Tamron in 2008 on their original 18-270mm.
YES is the answer to the question... Should I buy this lens?
The ZOOM RANGE is the focal length range from one extreme to the other. In this case 18mm wide-angle right up to 270mm telephoto. The bigger the range the more versatile the lens. Usually that means heavier and bulkier, but not in the case of this 18-270mm.
To see the 4.5/5 star review of the Tamron 18-270mm lens on ePHOTOzine look here:
Tamron 18-270mm lens test
.
For details of the Tamron 18-270mm f/3.5-6.3 Di II VC PZD visit
Tamron's Website
How To Get Rid Of Acne and Scars
site generally tell about tips for beauty and health skin, and especially tell anything about acne, myths, acne and scars treatments , not only on your face (including acne and scars on your body such as chest and back)which may help you to
war against acne and the scars
to leaves on your face and body (back and chest), through naturally, home remedies, and medical treatment. Some people believe that natural treatment is most safe. But its seems would take time longer then
medical treatment
. In my oppinion, using medical treatment is more effective and you'll see the result
faster
. To find what
the best treatment
for your acne, better you understand what causes of acne. The following are some factors which can cause acne: Hormones, diet, stress, medication, clothing, environment factors, genes, and cosmetics. For back or chest acne cases, it may caused by your tight clothes.
To get rid of acne on back or chest
, it's good to wear synthetic loose clothing, such as cotton linen, to prevent excessive rubbing and irritation on the skin.
Another treatment
that can help you to
get rid of back or chest acne
is keep your body always clean, with take a bath regularly, preferably with an anti-bacterial soap or a salicylic acid-based cleanser is highly recommended. When acne goes, it will leaves behind the red on skin, and seems impossible to
heal it fast overnight
. So, it would be better to do something which may
offer some remarkable effects on the redness from acne
. If you choose
naturally treatment
, just take a cube of ice, garlic, or lemon juice mixed with rose water, choose one of them, then apply to your reddish part of your face for a while. Do
this
continously and measured, then see the result. Below this, some good habits which may help you to
get rid of acne scars naturally
and
fast
are: first, drinking lots of water to makes your skin well hydrated, and finally make you skin regenerate faster. Second, eat the food that containing much the essential vitamins and mineral to help repairing scars skin from the inside. Third,
naturally treatment
to
get rid of acne scar
, by applying aloe vera on scars, may help to avoid more scarring, soothe inflamation, and make your skin keep smooth. Fourth,
treat your acne scars
with natural ingredient, tomato. Its containing much vitamin A, which very efficient in
repairing scars skin
. If you want
to get rid of acne scars ons faster
than
naturally or home remedies treatments
, using the latest product of technology, such as laser treatment and chemical peeling, or even you can choose microdermabration that guaranteed more effective than
other treatments
.
Ada banyak bermacam permasalahan kulit di wajah, salah satu yang paling menggangu adalah jerawat, apalagi jika yang muncul adalah jerawat batu yang ukurannya besar dan menyebabkan rasa sakit.
Solusi
mengenai berbagai
cara menghilangkan jerawat batu
ini banyak sekali ditemukan, mulai dari
pengobatan alami
, maupun secara
medis
. Untuk kasus jerawat batu ini, sebaiknya anda bisa mengambil tindakan
pengobatan yang tepat
, untuk kasus jerawat batu disarankan langsung saja ambil perawatan medis, karena beresiko tinggi meninggalkan bekas berupa bopeng di wajah, jika salah menangani. Dengan langsung mengambil tindakan medis, setidaknya akan meminimalisasi resiko timbulnya
scars bopeng di wajah
yang mana scars jenis ini relatif sulit dihilangkan. Tidak seperti scars berupa noda/ flek hitam. meski tidak mudah juga, namun berkali-kali lipat jauh lebih mudah dan murah dibandingkan dengan
mengatasi bopeng bekas jerawat
. Perawatan alami yang dapat anda tempuh untuk mengobati jerawat ataupun scars yang berupa
noda hitam/ flek bekas jerawat
, anda dapat mencoba dengan menggunakan
bahan alami
misalnya
jeruk nipis
atau madu yang sudah sangat terkenal khasiatnya yang untuk kesehatan dan kecantikan kulit. Dengan perawatan alami, cenderung lebih aman, hanya saja untuk perawatan ini biasanya dibutuhkan waktu yang lebih lama serta ketelatenan untuk mengatasinya. FYI, Jeruk nipis ini yang tidak hanya dapat memudarkan flek hitam di wajah, tetapi juga dapat
memutihkan
dan
mencerahkan kulit
anda. Namun jika anda tidak memiliki cukup kesabaran, sebaiknya langsung saja konsultasi dengan dokter. Untuk menentukan metode
pengobatan jerawat dan scars
ini biasanya dokter akan melihat tingkat keparahan dari jerawat/ scars anda, bisa dengan pemberian obat minum seperti anti biotik, obat oles (salep), peeling, mikrodermabrasi, laser atau metode pengobatan lainnya. Namun sebelum anda memutuskan menggunakan salah satu treatment tersebut sebaiknya telah jelas terlebih dahulu mengenai efek samping yang ditimbulkan.
Seiring dengan semakin tingginya pengguna internet dari waktu ke waktu, hal ini menciptakan peluang bisnis tersendiri. Diataranya peluang
bejualan tas murah secara online
, buatan konveksi-konveksi lokal. Di Bandung cukup banyak konveksi tas yang membuat beraneka macam
tas dan dompet tiruan atau kw
. Model-model dari tas wanita ini kebanyakan menjiplak
tas dan dompet wanita dari brand terkenal luar negeri
seperti merek-merek
LV atau Louis Vuitton
, Hermes, Chanel, Furla, dll yang sangat terkenal. Tas tiruan seperti ini familiar disebut
tas replika/ kw
, dengan beraneka tingkatanya: Kw I, Kw II, dll.
Tas-tas wanita branded
ini di Bee Bagshop dijual dengan harga yang bevariasi antara 66-300 ribuan. Pembelinya berasal dari kalangan anak SMA, anak kuliah, pekerja kantoran, serta ibu-ibu muda. Untuk
tas sekolah dan kuliah anak
, kebanyakan modelnya meniru model tas branded seperti kipling, dan jansport, dengan model tas punggung/ ransel ataupun
model selempang
. Untuk harga
tas-tas branded kw
dijual dengan harga yang jauh di bawah harga aslinya, sehingga bisa dipastikan kualitasnya pun berbeda dengan yang original. Di Bee Bagshop sendiri kisaran harga untuk
tas jansport tiruan
ini dijual dengan harga 60-80 ribuan, sementara harga barang original mungkin sekitar 800-900 ribuan, bahkan mungkin ada juga yang lebih mahal. Untuk
tas ransel branded tiruan
ini kebanyakan pembelinya berasal dari anak sekolah dan kuliah.
Jika anda wanita yang terlalu sibuk bekerja, dan selalu bingung bahkan tidak sempat untuk sekedar memikirkan
menu masakan sehari-hari
untuk keluarga anda, silahkan kunjungi situs
Aneka Resep dan Cara membuat Masakan Praktis Khas Indonesia
, situs ini berisi kumpulan
resep masakan
yang menggunakan bahan-bahan umum seperti ayam, daging sapi, serta beraneka seafood (udang, cumi, ikan), dan juga bahan-bahan makanan yang tidak asing bagi masyarakat Indonesia seperti tahu, tempe, serta nasi, . Selain itu ada juga resep cemilan
khas nusantara
, yang dapat anda jadikan inspirasi untuk
menu masakan
dan makanan ringan keluarga anda di rumah. Seperti resep membuat
masakan khas
suatu daerah seperti
soto ayam lamongan
, ataupun
masakan khas lebaran
seperti
opor ayam
, beraneka
masakan berbahan dasar ayam
ataupun bahan makanan lainnya, yang pastinya
praktis dan mudah dibuat
.
That's great! I appreciate Peter for doing such a fantastic thing. He has taken a huge effort to capture all these photographs. For that he has used Tamron to get this much of perfection for the photographs. Really awesome A to Z!
specialty cheese
It's my first time to visit this site & I'm really surprised to see such impressive stuff out there
go to this site
Add your message
Login required
Please
login here
or if you've not registered, you can
register here
. Registering is
safe, quick and free
.
photodo Stats
1102 lenses
428 MTF tests
74 in-depth photodo reviews
100+ users join each day
Help the lens community by reviewing or rating a lens today via our
lens search