Carl Zeiss ZF 50mm f/1.4 and 85mm f/1.4 Planar lenses to fit Nikon F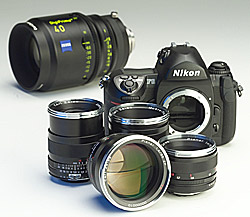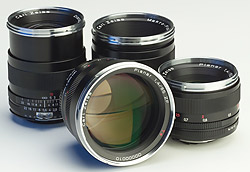 In a discussion posted on the Carl Zeiss website Dr Winfried Scherle, Vice President and General Manager of the Zeiss camera lens division and Kornelius Mueller, their Marketing Manager talk about the new Zeiss ZF lens system.
Two lenses have been announced so far. Both lenses are 'updated and further developed' versions of those that were previously available for the Contax RTS. The lenses are:
Planar 50mm f/1.4
Planar 85mm f/1.4
In the discussion Dr Scherle reveals, "
ZF designates a new range of Carl Zeiss lenses for 35mm SLR's with Nikon F mount.
" and when asked about compatibility with Nikon digital cameras he replied, "
Sure, for digital, too. Even for cameras with full frame sensors!
"
When asked why the decision to make Zeiss, Mueller disclosed, "
We have seen a strong demand for Carl Zeiss lenses from photographers using 35 mm SLR's with original equipment lenses. Those photographers decided on, say, Canon or Nikon as their cameras, but always envied Contax users for the quality of their pictures. Since our former partner, Kyocera, has discontinued their Contax activities, we wanted to find new ways to offer Carl Zeiss lenses to demanding SLR 35 mm photographers, especially those who use digital equipment.
"


Dr Scherle also reveals why they have decided on using the Nikon F Mount
,
"
We had three main reasons:
1) Nikon has, for half a century, earned a great reputation with professional photographers. They began with copies of Zeiss Ikon Contax rangefinder cameras right after the World War II. In the 1960's they introduced their famous Nikon F SLR and with this legendary camera and its successors Nikon established the standard for professional 35 mm SLR's worldwide.
2) As a result the Nikon F mount became popular in the field of industrial optics, since these mass-produced lenses were available off the shelf, at reasonable cost, everywhere in the world. Carl Zeiss has been active in the field of industrial optics for a long time and now, with ZF, expands its offerings to this market.
3) Also, we work closely with Sinar, the Swiss maker of professional cameras, and supply them with autofocus medium format lenses for the Sinar m camera system. For this camera they also have a 35 mm SLR module with Nikon F mount. Now, with ZF, users of this module can just bayonet a genuine Zeiss lens onto their cameras to satisfy their really high-end needs.
"
For photographers using cameras made by other manufacturers, Mueller also has some good news, "
Along with the ZF line, we are also introducing "ZS" lenses. Carl Zeiss ZS lenses come with the same optics as the ZF line; only the mount is different. ZS has the M-42 screw mount, the one that used to be called the "Universal SLR mount." We don't think the M-42 screw mount is going to take the market by storm, but it has a unique advantage: there are M-42 adapters available for any SLR bayonet mounts, including Canon EOS and FD. So you can adapt a ZS lens onto any 35 mm SLRs (and many other applications as well) if you crave the optical characteristics of this lens line and are willing to get along without the convenience functions of recent lenses.
"
The lenses will be manufactured in Japan by Cosina under the supervision of Carl Zeiss technicians who will perform all the necessary quality control.
When asked about how the lenses will be priced, Mueller said, "
ZF lenses are precision tools, not luxury items. They should be in reach of demanding photographers and should be economically justifiable for pros. Likewise, for industrial applications like machine vision, pattern recognition, process control, advanced robotics, and quality assurance, prices cannot go through the roof, since lenses are usually not purchased as single units, but in quantities of 50, 100, or even 1000 at a time.
"
More Zeiss ZF lenses are scheduled to be announced at Photokina in September, although there are no details of what these may be yet.
Add your message
Login required
Please
login here
or if you've not registered, you can
register here
. Registering is
safe, quick and free
.
photodo Stats
1102 lenses
428 MTF tests
74 in-depth photodo reviews
100+ users join each day
Help the lens community by reviewing or rating a lens today via our
lens search