Pentax SMC 50-200mm f/4-5.6 DA ED
This telephoto zoom lens from Pentax competes in an area that has become popular as a first 'extra' lens since the introduction of cropped sensors. Designed for use on the *ist D series of cropped sensor cameras, we take a look at how it performs.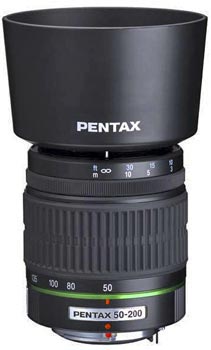 Specifications
Focal length 50-200mm
Construction 11/10 elements/groups
Max aperture f/4-5.6
Min aperture f/22-32
Angle of view 31.5-8.1º
Filter size 52mm
Min focus 1100mm
Dimensions 63x83mm (approx)
Weight 0.261kg
Mount Pentax KAF
Price (SRP) £209.99
Build and handling
Pentax have a deserved reputation for small, lightweight equipment and this offering fits the mould well. The lens is a neat, relatively compact offering that will have little effect on the shoulder muscles when added to your camera bag. The construction, although by no means bomb proof, is good enough for most purposes and the feel of the zoom and focus rings was smooth and torqued at just the right level.
The majority of the barrel is taken up with a heavily ribbed zoom ring which, when turned clockwise from the 50mm mark, extends the lens by some 40mm by the time it reaches the 200mm mark. Forward of this is a rather narrow manual focus ring which has markings in both metres and feet and extends the front of the lens another 15mm by the time it reaches it's closest distance of 1.1 metres, a handy distance for a 200mm lens. It did seem, however, that the MF ring is only there as an afterthought that rotates during autofocus.
The autofocus was relatively quiet although nowhere near silent and was quick enough for many subjects although it did struggle with flight shots and would do the same with fast cars etc.
The lens is finished off with a supplied, conical hood that is a firm bayonet click fit. The non-rotating front element takes a 52mm filter, which is a common size and not too expensive.
Optical quality
For the price, this lens performed quite well. There is a small amount of distortion throughout the lens's focal range and it is pincushion all the way. However, it is not serious, with figures of 0.4% at the wide end going to 1.7% at the longest length. The nice thing about the lens is the consistency across the frame from centre to edge throughout the aperture range and focal lengths. The lens is as good at the long end as it is at the wide end, something that is highly commendable.
Contrast is good, probably due to the consistency of the lens, however, the one letdown is the control of CA. Although not in the realms of 'horrible' there are occasions when the phenomenon does rear its ugly head. Fortunately though, it is not to the extent that it cannot be overcome in software applications when it does.
Although the lens does not reach a peak until around f/11, you will see from the accompanying charts that the rise from wide open is not that great, making the lens usable from the off.
| | |
| --- | --- |
| This lens covers all of the popular portrait lengths. Close framed portrait of a Peregrine Falcon taken at 1/180sec at f/8 and 180mm on ISO 200. On board flash and aperture-priority. | The focal length range of this lens allows for some creative framing. 1/500sec f/8 50mm ISO200. |
| Despite the high contrast in this shot, CA did not show to the naked eye. 1/750 f/8 138mm ISO 200. | Again here, the shot was framed to include the reflection.1/500sec, f/8, 68mm at ISO 200. |
Click on each comparision photo below to view full size versions
Below is our lens test data. To find out how to use these graphs look at this article: How we test lenses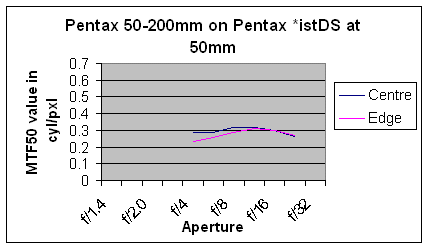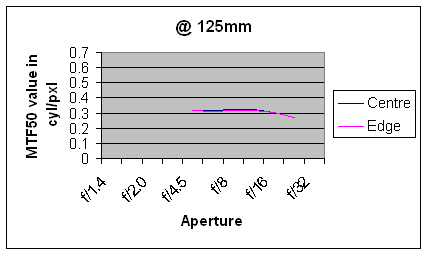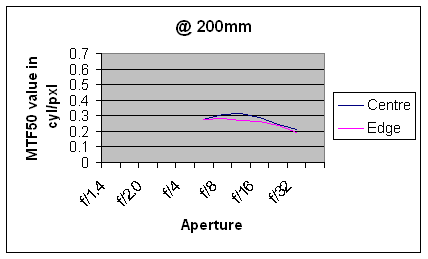 Summary
Despite its small size and low weight, this lens performs more than adequately. The focal range is ideal as a second lens on the cropped sensors of the cameras that it is designed for. (*istDxx range) Autofocus is perhaps a little dated and often has a last tiny jerk to acquire its final lock but is accurate once it is there. Pentax have done well to achieve such pleasing performance in such a small package for what is a very reasonable price.
In summary, the positive points of the Pentax SMC 50-200mm f/4-5.6 DA ED lens are:


Lightweight and compact


Consistent optical quality throughout range


Good value for money
The negative points are:


Chromatic aberrations under some conditions


Autofocus a little frustrating at times


Manual focus ring small and rotates during AF
Check the latest price of the Pentax SMC 50-200mm f/4-5.6 DA ED here
Test by Ian Andrews
Unbelievably good lens, especially for the price. I have had the lens about a week and have subjected it to my own testing. I cropped out a 542x676 pixel from a 2000x3008 picture, resized it to 1800x2245 and then printed it at 8x10. No problem whatever, clear in every respect, very light to carry.

Good DOF when closed down and very shallow DOF when wide open at 200mm. Would highly recommend this lens to any user.

DoctorJerr
I did some testing of the Samsung version today - looks pretty similar - I may have managed to get some camera shake at F16, but I include 100% crops and so on for those interested in saving a bit more over the already reasonable Pentax version.
http://www.pbase.com/jokertoo/50-200_tests
Regards,
DaveMart
My first reaction to the lense was (so small) - I wonder how it plays. To my surprise I didn't see a trace of CA at all. That's well above what I'd expected for the lense of that price. AF speed is good for not IF lense. Front element is not rotating, which only adds to the overall positive feedback to this lense. What first looked like toy in my hands appeared to be very good performer. I'll show you some of its images with exif and large original files on my website.

http://roman.blakout.net/?blog=20070329160524

Roman
This has to be the most value for money in the entire DA Pentax lens family. I use it for a recent studio shoot, at f/8.0, and it came out superbly well, even on large 16x24" prints. 50mm to 200mm, the optical quality is ever so consistent.

http://flickr.com/photos/wesleywong

Wesley
Add your message
Login required
Please
login here
or if you've not registered, you can
register here
. Registering is
safe, quick and free
.
photodo Stats
1102 lenses
428 MTF tests
74 in-depth photodo reviews
100+ users join each day
Help the lens community by reviewing or rating a lens today via our
lens search