Canon EF-S 60mm f/2.8 Macro USM
This new EF-S mount Macro lens from Canon is designed to be used with the APS-C sized sensors of the 300D, 350D and 20D cameras only. With a crop factor of 1.6x it gives an equivalent length in 35mm terms of 96mm, very close to the 100mm of their most popular fixed focal length lens, the 100mm f/2.8 Macro. We take a look at its qualities and the thinking behind it.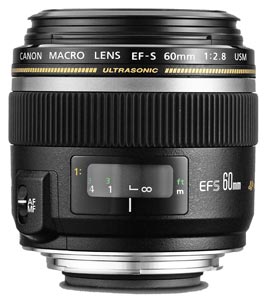 Specification
Focal length 60mm
Max Aperture f/2.8
Min Aperture f/32
Filter size 52mm
Elements/groups 12/8
Closest focus 0.2m (1:1)
Dimensions 73x69.8mm
Weight 0.335kg
Hood ET-67B (Not supplied)
Mount Canon EF-S
Price (RRP) £319.99p
Build and Handling
As is normal with Canon's mid range lenses the build of the EF-S 60mm Macro is certainly up to the job. Being a prime lens the operation is simple with only an AF/MF switch and a manual focus ring to control proceedings. The AF/MF switch is in the usual place, just to the left of centre near the mount. The mount is the EF-S that sports a white spot as opposed to the more normal red one of the standard EF mount. The lens can only be used on the 20D, 300D and 350D Canon cameras that support this mount.
Centrally placed on the barrel is a generously sized distance window, which is, by convention, marked in metres and feet. However, there is an additional row of markings indicating the reproduction ratios that you are achieving at that setting, ranging from full 1:1 through to 1:5 at the 0.44m(1.43ft) mark. For some, this may well prove useful and is a nice touch. The manual focus ring, which can be used to over-ride the autofocus without switching, is generous enough for even the largest of hands and, as is fairly normal for Canon lenses, is nicely torqued.
For a Macro lens, the autofocus is quiet and surprisingly quick, a product of the USM mechanism. All of the focussing is carried out internally giving the added advantage that the lens neither extends in length nor does the front element rotate in operation. This makes the use of filters in the 52mm thread a much simpler operation. There is provision for mounting the ET-67B lens hood, although this is an extra.
Optical Quality
One of the problems emerging with Canon's EF-S series of lenses is that you don't really know what you are getting in performance terms apart from going by the price differences. They all have the same nomenclature so the EF-S 18-55mm 'kit' lens is grouped with the excellent EF-S 10-22mm and no one will argue that that they are not worlds apart. This offering of the EF-S 60mm Macro, like it's price, falls somewhere in between the two. Distortion has been well handled with a figure of –0.237% indicating a very slight pincushion that is almost undetectable with the Mk 1 eyeball.
Chromatic aberrations have been well sorted and are well within acceptable limits right across the frame and throughout the aperture range. Contrast is also well up to Canon's high standard and is the area where they win a lot of their following, but, for a newly designed lens, the resolution is slightly disappointing. Don't get me wrong, it is adequate for the cameras it is designed for and will give pleasing results, as it did for me. Where it does score well is wide open at f/2.8, which, along with the 7-blade diaphragm and the ideal focal length, bodes well for portrait photography and other areas where a nicely blurred background is required. Another plus is the ability to shut the aperture down as far as f/32, unusual on an f/2.8 lens and a bonus for those who want maximum depth-of-field.

Shot at f/16, the front of the lens was only 85mm from the subject for this 1:1 image.



As with the single portrait, the perspective given by this lens is just as pleasing in this group shot and saves the need to have a large studio or taking the shot from halfway out of the door. Again, 1/125sec at f/4, ISO200.


The EF-S 60mm is an ideal focal length for portrait photography on the 1.6x crop sensors it is designed for. 1/125sec at f/4 and ISO200. All three shots taken on a Canon 300D.
Click on each comparision photo below to view full size versions
Below is our lens test data. To find out how to use these graphs look at this article: How we test lenses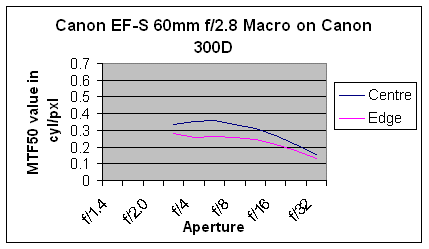 Verdict
I wait to be convinced about Canon's commitment to the EF-S mount and the restricted number of cameras that it will fit. However, if you own one of them and do not plan to upgrade to full frame in the future then this is a capable and versatile lens. Remember, however, that the minimum focus distance is measured from the sensor plane and to get a 1:1 ratio picture the front of the lens will only be some 85mm from the subject. On an APS-C sensor though, it does seem the ideal focal length for portraits and may well find a good deal of favour in that discipline.
In summary, the positive points of the EF-S 60mm f/2.8 Macro USM are:


Excellent autofocus. Both quick and quiet.


Good control of distortions and CA. Good contrast.


Good wide open performance and stops to f/32


Ideal focal length for portrait work (on cameras it is designed for)
The negative points are:


Resolution slightly disappointing for a modern lens (although adequate for job)


No lens hood supplied.


Restrictive mount.
Check out the latest price on the EF-S 60mm USM lens here
Test by Ian Andrews www.wildaboutkent.co.uk
I've generally loved the reviews here. In general I've found them to pretty well match up to my experiences with equipment I'm familiar with.

That said, I have to strongly disagree with the comments regarding this lenses' resolution in this review. I've used several other excellent macros on my Canon 20D (Canon 100mm f2.8 old and new, Tamron 90mm, Canon 50mm 2.5, Sigma 105mm, etc), and I strongly feel that the Canon 60mm is optically the best of the lot.

You can see a lot of my results using this lens here:

http://www.pbase.com/pyanez/macro

In particular take a look at this shot taken at f2.8:

http://mishilo.image.pbase.com/o4/02/90302/1/59467741.IMG_4471.jpg

I'd also like to add one other feature that I've found very useful with this very compact lens... I can use my 20D's built-in flash even at the closest focusing distance, because the lens is so short it does not cast a shadow on the subject!
As the previous reader commented the reviewers assessment of the resolution capability of the lens is not consistent with almost every other test (slrgear.com, the-digital-picture, fredmiranda.com etc.) and the personal experience of hundreds of owners (see FM reviews).
Personally out of the 11 lenses I own, including 8 primes, this is by far the sharpest lens in any qualitative assessment. One possibility is that the reviewer was using a very rare bad copy of this lens?
As a portable, affordable and quality macro lens for travel its hard to beat. Obviously for insect work or even flowers its a bit short on working distance but with very fast focusing its often possible to work around this limitation.
Its also an almost perfect portrait lens on the 1.6x crop bodies (if anything a little too sharp!).
I dont think it is soft , in fact, I think it is the sharpest lens in the world.

I compared it to all kinds of lenses , and it is just prickly sharp.

So I can not get the reviewer says it is soft.

My EF-S60 is much sharper than my 100Macro , my Nikon 60 micro, my Olympus ZD50f2.

I've never touched my EF85 f1.4 L 2 after I bought this lens , this tells you something how sharp it actually is.

At f5.6 -10 , this lens is really insanely sharp.

Also, this lens has great contrast and color, with super fast AF as for a macro........I use it for street snap or PJ kinda works , seldom use it for real macro shots since its working distance is not long enough for most of my macro works .

Any way,highly recommended. Now , I have colected all EF-S lenses ; EF-S18-55, EF-S17-85IS , EF-S17-55IS , EF-S60 macro , EF-S10-22 and now getting the new EF-S55-250 IS.
I also disagree strongly with the reviewer's contention that this lens is in any way lacking in sharpness. I can only speculate that the reviewer's copy of the lens was damaged in some way.

For me, this is absolutely the sharpest lens I've ever used. bar none! The images are breathtakingly sharp at any aperture setting up to where diffraction starts to take its toll.

At f/8 and below, it's amazing. I believe the reviewer should try again with a different copy. I've never read any other review of this lens that found it to be anything but excellent in sharpness, and for me, it is my favorite lens on 1.6X bodies.

Perfect for portraits, wonderful for macros, it is a fantastic lens. Highly recommended!
Add your message
Login required
Please
login here
or if you've not registered, you can
register here
. Registering is
safe, quick and free
.
photodo Stats
1102 lenses
428 MTF tests
74 in-depth photodo reviews
100+ users join each day
Help the lens community by reviewing or rating a lens today via our
lens search