Tamron SP AF 200-500mm f/5-6.3 Di LD (IF)
This super telephoto zoom, which is capable of bringing the subject matter of your photographs very close indeed, is one of only a few affordable lenses with the reach of a 500mm focal length. Fitted with Tamron's new concept FEC (filter effect control) ring, we take a look at how the lens performs.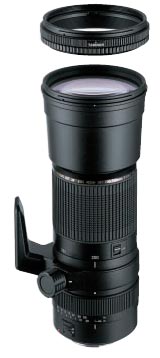 Specifications
Focal length 200-500mm
Aperture f/5-6.3
Angle of view 12-5°
Filter size / type 86mm
Construction Elements/groups 13 elements in 10 groups
Focusing type Internal
Closest focus 2.5m (over entire range)
Weight 1.237kg
Dimensions (Dia x length) 93.5x227mm
Mounts available Canon, Nikon, Minolta,
Tripod bush Yes, removable
Price £829.99
Build and handling
This lens comes boxed and supplied in a soft zipped pouch and includes the lens hood and FEC ring which is detachable. Also supplied is a quick-release tripod mount. The lens is rear focusing and first up along the barrel is the manual focus ring marked with a basic distance scale. It is nicely torqued in MF mode but becomes stiff and is non over-ride able in autofocus mode. Next is the tripod mount bush which has a quarter-turn and pull quick release method that is very effective. The mount plate itself is let down by being small with only a single bush thread, meaning it cannot be balanced for different weight cameras.
The zoom ring is a nice wide (72mm) affair that is marked at 50mm intervals between the 200mm and 500mm extremes. At the 200mm end there is a zoom lock to stop creep when carrying. The remainder of the ring is covered in Tamron's comfortable ribbed grip finish.
At this point the lens extends when zooming and becomes some 95mm longer when pushed out to the 500mm mark. A cone shaped area adds another 70mm to the lens. The FEC ring screws into the filter thread, effectively adding 20mm more and the hood fits on either the lens or the FEC ring.
The FEC ring allows a full turn in either direction (two turns in total) to any filter fitted to it with the hood still in place. It does help if you use a polarising filter but in truth does seem a bit gimmicky on a lens of this type!
The general feel and handling of the lens, in spite of the light weight for the focal length, or perhaps because of it, feels good and is comfortable in use. The rear focus ring helps when manually focusing as it stays in the same place but is bad news if using the lens on a beanbag in AF mode as it rotates during autofocus and is just where the rig would be resting!
Optical Quality
The phenomenon of edges being sharper than the centre in lenses that are designed to work on full frame sensors and tested on cropped sensors has come up before and we have always put it down as a plus point. This is another lens that displays these characteristics. Zoom lenses also tend to be better at the shorter end than at the extremes of their focal length and again, this lens is no exception. However, having a short multiplication factor of only two and a half times the focal length does help to keep this lens fairly consistent and the 500mm end is not that far short of the 200mm. As with the majority of lenses, it needs stopping down by one or two stops to achieve the optimum results. With the improving control of noise levels in modern DSLR's, this is becoming less and less of a problem.
The control of distortions does not normally have great significance on long focal length lenses and we found this to be the case here. Chromatic aberrations on the other hand are approaching the level where they may be a nuisance as pixel counts rise. They did not, however, transfer to A4 prints in the test.

A kingfisher tossing a minnow to turn it for swallowing. Full frame, 1/1000sec at f/10 and 500mm. Canon 1D and ISO320.


A crop shown at approx 50% gives an idea of the detail that this lens is capable of recording.


Shot at 200mm and 1/200sec at f/5 on a dull afternoon, this lens has great scope for wildlife photography.
Click on each comparison photo below to view full size versions
Below is our lens test data. To find out how to use these graphs look at this article: How we test lenses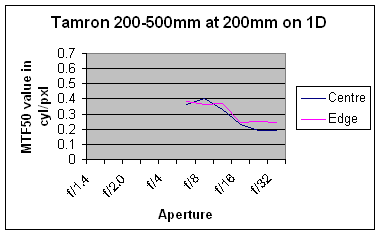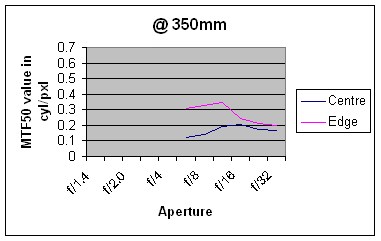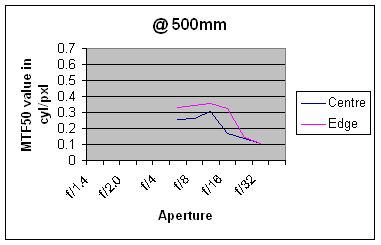 Verdict
We found this lens light and compact enough to carry around in a standard camera bag, so for a focal length of 500mm, this has to be an advantage, making it available when needed but not necessary to have a separate carrying bag. The optical performance was up to most uses except perhaps top end wildlife or fast action sports. A handy addition to your kit with a usable focal range.
In summary, the positive points of the Tamron SP AF 200-500mm f/5-6.3 Di are are:


Lightweight and compact for focal length


Comfortable and easy to use.


Good optical performance for the price.
Negative points are:


Autofocus a little noisy and focus ring turns during AF


Chromatic aberrations OK but on the borderline
Check out the price of the Tamron SP AF 200-500mm Di here

Test by Ian Andrews www.wildaboutkent.co.uk
I tend to agree with the Sigma (Bigma), but would take it a step further and include the 150-500 and 170-500, all of which I have owned and sold. Why? Fringing galore. I went to the Tamron 200-500mm and it is better controlled, far less time in the shop which is what a Bigma needs. A Nikkor 300mm with a 1.4 converter is a better choice on a DX even though it's a shorter. The Tamron will require less time processing then the Bigmas, less money spent on adding plugins or finding the right formula that actually does improve the image results. This is the high end of low cost/inexpensive long range lenses that is reaching the $1000 mark...400mm is looking better all the time as both Sigma and Tamron have convinced a market to pay for their stuff and now pay a lot more. Great enterprising, lousy product for the cost involved - surprise!
Add your message
photodo Stats
1102 lenses
428 MTF tests
74 in-depth photodo reviews
100+ users join each day
Help the lens community by reviewing or rating a lens today via our
lens search