Canon EF-S 10-22mm f/3.5-4.5 USM
This lens is Canon's offering in the ultra wide zoom category for cropped sensor digital SLR cameras. As the only contender to exceed the 2:1 zoom ratio to date, we take a look at how it performs.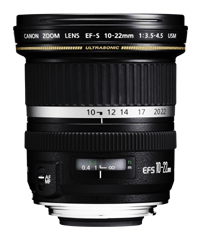 Specifications
Focal length 10-22mm
Aperture f/3.5-4.5
Angle of view n/a
Filter size / type 77mm
Construction Elements/groups 13 elements in 10 groups
Focusing type Internal USM
Closest focus 0.24m
Weight 0.385kg
Dimensions (Dia x length) 83.5x89.8mm
Mounts available Canon EF-S (Only fits 20D, 350D & 300D)
Tripod bush No
Price £599.99
Build and handling
The lens is a well-built example that feels sensibly weighted, not being too plasticy but not too heavy either. The mount is slightly different to the standard Canon mount and is denoted by the absence of the usual red dot for location. This is replaced by a raised white spot that locates with a similar spot on the appropriate cameras, just to the left of the standard location dot. The S in EF-S stands for 'short back focus' and means the lens cannot be used on any of the older cropped sensor cameras such as the D30/60 or the 10D, as the rear element protrudes into the camera body and would hit the mirrors on these models. Do not try to fit it to the 1D/5D series either, as the same problem occurs!
The left side of the barrel carries the normal AF/MF switch and there is a distance window just forward of this. Marked in metres and feet, it gives an idea of the focus distance set. A narrow manual focus ring is fairly well torqued although slightly light in use. In autofocus mode, the ring does not turn but will over-ride the AF if required. As with most of Canon's USM offerings, it was quick and almost silent in operation although with such a wide angle to cope with, an occasional jitter is encountered as it locks on.
Next up is the broader zoom ring, marked at 10, 12, 14, 17, 20 and 22mm. Again, lightly torqued, it worked well and required less than a quarter turn to move through the whole range. The lens then widens a few millimetres before arriving at the front element and the 77mm filter thread. Disappointingly, the lens hood is an optional extra on this model, but would need removing to fit a filter system anyway. Filter systems, as with all of these ultra-wide angle lenses, needs to be of the 100mm or more types. The Cokin Z-Pro holder did not vignette when fitted.
Optical Performance
As a new lens designed from the ground upwards for cropped digital sensors, our expectations were fairly high and we were not disappointed. Most of the nasties that you could expect are well controlled and, with the exception of a slight pincushion at the 22mm end of the range, the distortions are well controlled too. Colour rendition was good, being slightly less warm than older Canon designed lenses and the contrast was more than acceptable.
Files, viewed at in excess of 100%, showed no evidence of fringing and test shots showed measurements for CA that are well within acceptable limits. Despite using the lens in some difficult lighting conditions we found no incidences of reflections inside the lens causing unwanted flare. Overall the performance was very good.
| | |
| --- | --- |
| | |
| | At 17mm, 18mm and 20mm, respectively, these three pictures of Bodiam Castle and the Kent and East Sussex Railway show that this can be a useful lens when carried on the camera. All three shots taken at f/10 with the Canon EOS 300D in aperture priority mode at ISO100. |
| Even when shooting almost directly into the sun there is no hint of lens flare, even without the optional hood. Canon EOS 300D with lens set to 10mm and a 1/2000sec at f/3.5 exposure on ISO100. | Once opened out to the full 10mm coverage the lens is capable of capturing the real drama of the scene. Canon EOS 300D at 1/125sec and f/16 with ISO100. |
Click on each comparision photo below to view full size versions
Below is our lens test data. To find out how to use these graphs look at this article: How we test lenses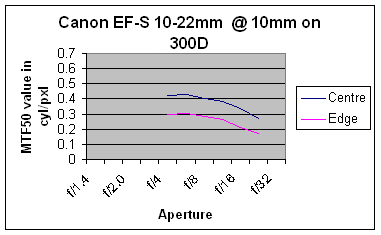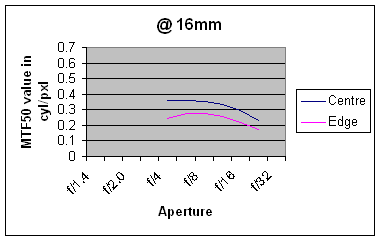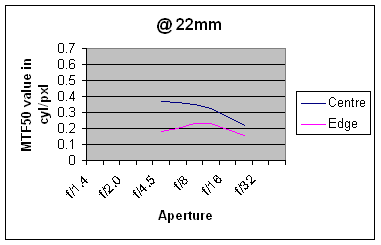 Verdict
The ultra-wide group to which this lens belongs has gone a long way towards overcoming the biggest drawback of cropped sensor dSLR's, that of lost angle of view at the wide end. Being newly designed, it has addressed all of the other problems that have been thrown up by digital sensors and optically, if they had stopped at 20mm there would be very little to pick up on. The one slight disappointment is the build quality when looked at in terms of the price, as the cost is more than some 'L' class lenses and is the biggest barrier to owning this lens after the need to have one of the limited cameras it will fit on.
In summary, the positive points of the Canon EF-S 10-22mm f/3.5-4.5 USM are:


Good optical quality


Nice size and weight


No unexpected nasties.
The negative points are:


Price


Restricted fitting (Won't fit D30/60 or 10D)


Lens hood is an optional extra.
Check the latest price for the Canon EF-S 10-22mm f/3.5-4.5 USM here
Test by Ian Andrews www.wildaboutkent.co.uk
My single biggest concern with the generally excellent Canon 5D was the inability to use any of my rather large investment in wide Canon glass. After purchasing a 5D to deal with that limitation, Canon came out with the 10-22mm EF-S. Since I believe 8 megapixels are more than enough for almost any assignment, or any print up to 13"X19", I fully intend to keep using my 20D cameras, and felt I could justify the rather substantial price of the 10-22 lens. Is the lens any good? Absolutly. "L" quality? Absolutly. As a pro for 41 years, and teethed on Leitz and Zeiss optics, I have pretty high standards when it comes to optics, and use a lot of Leica lenses on my Canon digitals, and the 10-22 surpassed my expectations. I can recommend the lens comfortably. Dennis Harnden
With over 46 years experience using everything from M series Leica, Hasselblads, Mamiya RB/RZ 67's, Nikon, Olympus, Canon, Pentax (6x7), and 5"x4", I too can vouch for the performance of this fine lens. My only slight disagreement with the test results, I have found a slight problem with CA's with some subject against bright background, for example constructional steelwork against a bright blue sky on a sunny day but quite frankly, with digital sensors, it would be extremely surprising to find any lens which doesn't exhibit some degree of CA's under such situations.
My take on this lens is that it is an 'L' quality optic in a fine, non 'L' package. There is nothing else on the market to compete with it (nothing at all), and it produces supurb images. It isn't an f/2.8 lens, but it is close enough for most uses. The competition from Tamron is a full stop slower, not as sharp, and is awful in dim light compared to the Canon 10-22 lens (sorry, Tamron fans, but the Tamron lens isn't even playing in the same ballpark).
I use this lens on a 30D body, and I always keep it on hand if I'm doing any indoor, or tight group photography. It is the perfect solution to the perennial problem of not having enough room to capture all the kids at a birthday party in one shot because your back is up against a wall. This lens will just about get your toes into the picture at the widest setting, yet delivers tack sharp, colorful, and contrasty images. The auto focus is spot on, silent, and fast. It is a must have lens for the active amateur, or any pro using a 1.6 crop factor camera. You simply can't beat this lens with anything available on the market today.
More Review :
http://webcamerawebcamera.com/detail.php?id_detail=Canon-EF-S-10-22mm-f-3-5-4-5-USM-SLR-Lens-for-EOS-Digital-SLRs-id22a&template=2
Add your message
Login required
Please
login here
or if you've not registered, you can
register here
. Registering is
safe, quick and free
.
photodo Stats
1102 lenses
428 MTF tests
74 in-depth photodo reviews
100+ users join each day
Help the lens community by reviewing or rating a lens today via our
lens search