Canon 70-200mm f/4 L USM
This lens is Canon's 'cheaper' version of the highly rated 70-200mm f/2.8 L IS USM. Leaving out the Image Stabilisation and making the lens one stop slower at f/4 make the saving. Otherwise, Canon claim it has the same quality glass and construction. There is also a saving in weight, so we take a look to see if you get the same quality of image.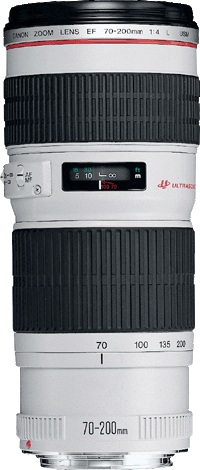 Specification
Focal length 70-200mm
Aperture f/4
Angle of view 34-12°
Filter size / type 67mm
Construction Elements/groups 16 elements in 13 groups
Focusing type Internal USM
Closest focus 1.2m
Weight 0.705kg
Dimensions (Dia x length) 76x172mm
Mounts available Canon
Tripod bush Optional extra
Price £549.99
Build and handling
This lens is another pipe-like design, being virtually the same diameter throughout its length. It is both narrower and shorter than it's big brother, the f/2.8 IS version and contains far less glass, allowing much easier handling and carrying. First up, as we go along the barrel from the mount end is an area where a tripod bush can be mounted, although this is not supplied but can be added as an optional extra. Next is the wide (40mm) zoom ring marked at 70,100, 135 and 200mm. A distance window, marked in metres and feet is next, and alongside to the left is the AF/MF switch and the focus limit switch which stops the lens focusing below 3m to speed AF as needed. The next, and last section is the manual focus ring, three quarters of which is rubberised and requires about a third of a turn to go through the range from 1.2m to infinity.
Both control rings are easily moved and neither focus nor zoom change the length or orientation of the lens, making use of filters an easy option. The filter thread, at 67mm, is small for the class of lens. Autofocus was fairly quick and noise free although it did not have the instant 'snap' of big brother, probably due to the smaller maximum aperture. This also caused the occasional little 'hunt' on low contrast subjects.
Build quality itself is up to Canon's usual standards for lenses with an L designation and we have no quibbles on this aspect of the lens although for the price, Canon could have included the tripod mount.
Optical quality
Once again, Canon's L glass has proved to be consistent. Not quite up to the definition of the f/2.8 model, but not very far behind it, the f/4 produces good results and does so across the range. Performance is, as normal, best at the shorter end of the zoom, holds up well through the middle and only falls of slightly when wide open at the long end of the focal range. Distortion control is well managed with none at the short end and virtually indiscernible pincushion at the furthest end.
Control of chromatic aberrations, however, was approaching the borderline of acceptability although it did manage to stay inside the threshold but in places this was a case of only just. Tested on a Canon 1D which has relatively large pixels, it may become a concern on newer, much higher resolution cameras.
Colour rendition, as always seems the case with L glass, has that trademark slightly warm look to it and contrast was good.
Above: Shot at the closest focussing distance, this shot of a Red Admiral Butterfly shows that the lens is not suitable for insect photography unless fitted with an extension tube, although the background has been pleasantly rendered out of focus. 1/250sec at f/5.6 on a Canon 1D and set at 200mm.

Right: The foreshortening of perspective from the lens set at 150mm makes this shot look like the steps lead down into the Pilot boat. Shot at f/8 and 1/320sec on a Canon 300D.



As you can see from the 100% crop from this backlit shot of a Herring Gull against a much darker background, the hard white edge shows little sign of the dreaded purple fringing caused by chromatic aberrations. 1/250sec at f/8 on a Canon 300D
Click on each comparision photo below to view full size versions
Below is our lens test data. To find out how to use these graphs look at this article: How we test lenses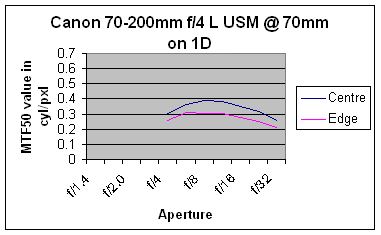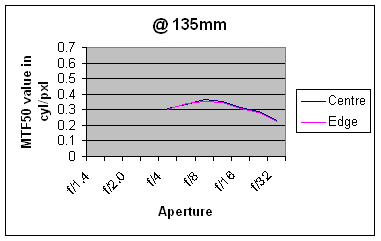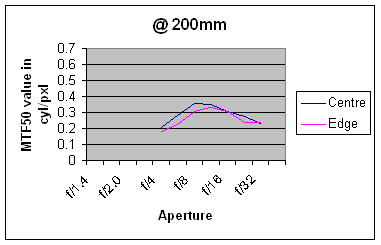 Verdict
At almost a third of the price of the big brother lens, comparisons are a little unfair. This smaller, lighter, slower version is a very nice lens for the money and produces excellent results. Being that much smaller and lighter, it makes a good companion for some of the smaller cameras in Canon's line up such as the 20D and the 350D without the price and weight penalty of the top end lens. And you still get L glass into the bargain! As with many of Canon's older designs though, the control of chromatic aberrations is looking a little long in the tooth.
In summary, the positive points of the Canon 70-200mm f/4 L USM are


Great build quality


Good and consistent performance for price


Silent and quick autofocus
Negative points are:


Chromatic aberration on the borderline


Tripod mount not included in the price
Check the latest price of the Canon 70-200mm f/4 L USM here
Test by Ian Andrews www.wildaboutkent.co.uk
Just got the Lense .it is very easy to use.You can hold it by the bottom and keep it very stable.I bought the EF 1.4 x11 extender and it works very well with it.It is a true Bargin.
I own the Cannon70-200mm .It is very easy to handel by hand and it gives you the opertunity to take great photos.I was just at the San Fransico Blues festival and got some great shots.Any body that is interested in seeing them be free to E mail me Arnie@bluestormmusic.com
I have both the f4 and f2.8 IS, but I use the f4 much more often. It is a great lens for outdoor, especially when you need light weight. Picture quality is similar to f2.8 IS, which is great.
Add your message
photodo Stats
1102 lenses
428 MTF tests
74 in-depth photodo reviews
100+ users join each day
Help the lens community by reviewing or rating a lens today via our
lens search