Sigma 18-200mm f/3.5-6.3 DC OS
The Superzoom category of interchangeable lenses is becoming one of the most hotly contested areas of technology in the digital age and virtually everyone is trying to get in on the act. The Sigma 18-200mm is the latest to reach the dealers' showcases.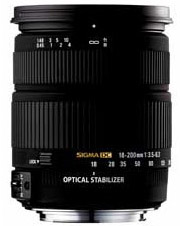 Sigma 18-200mm Specification
Lens Name Sigma 18-200mm f/3.5-6.3 DC OS
Focal length 18-200mm
Optical Construction: 18-13 elements/groups
Max Aperture: f/3.5-6.3
Min Aperture: f/22
Closest focus: 0.45m
Filter Thread: 72mm
Dimensions: 79x100mm
Weight: 0.61kg
Mount Sigma, Canon, Nikon(D)
Price (SRP) £439.99
Sigma 18-200mm Build and Handling
This lens is surprisingly solid in its construction and is heavier again by half than its non-OS sibling. The difference is not just from the OS system though, with a better overall feel to it that encourages confidence in its abilities. Not that the lens is heavy, but it is certainly no plastic fantastic!

Two substantial, rubber embossed rings, one to operate the zoom and the other for manual focussing adorn the majority of the barrel. Both are nicely torqued with the focussing ring being the lighter of the two to use when in manual mode. Two control switches adorn the left of the barrel (Canon and Sigma fit) one for the AF on/off and the other for the OS on/off. Both are sturdy and have well protected collars. A smaller zoom lock switch also sits just to the left of centre. The zoom action extends the barrel by some 60mm on a double trombone that has virtually no play in it. The first of the trombone sections is helpfully marked with a reproduction ratio that goes to a maximum of 1:3.9.

Another good point is that the front element does not rotate during use, a boon to those using effect and Grad filters.

The lens is only the second in Sigma's line-up that offers their Optical Stabilisation (OS) system and, unusually, Sigma make no claims as to how much advantage it will give. When pushed, they say it is good for two stops, however, we found this to be a very conservative estimate and managed four stops on a regular basis. The system also automatically detects panning movements, compensating for just the one plane when necessary. The lens comes supplied with protective caps and a bespoke lens hood as standard.

Focus speed is reasonable for the type, with a relatively quiet motor that gets there without much delay. The lack of an HSM motor will be an annoyance to some Nikon owners, but it is highly likely that an HSM version in Nikon fit will be produced in the near future.

Sigma 18-200mm Optical Quality
The problem with superzooms is compromise. Getting the best results from what is a stretching of optical laws to the extremes. At a zoom ratio of 11.1:1, this 18-200mm optic is a result of some well-balanced compromises though. As is usual in this type of lens, the wide end is better than the longer end in general, but does suffer some distortion. Barrel distortion is just evident at the wide end of the zoom, turning to negligible pincushion by the time the telephoto end is reached.
The lens benefits from stopping down throughout the zoom range with peak performance being reached between f/8 at the shorter lengths while it improves still further to f/11 and beyond at the longer focal lengths. It is usable throughout the range though.

Chromatic aberrations have been fairly well sorted too, with evidence at the edges improving to the state where they are not visible once a couple of stops down.
Generally, for the type of lens, it is not a bad performer.
| | |
| --- | --- |
| | |
| Sigma 18-200mm OS 18mm at f/8 | Sigma 18-200mm OS 200mm at f/8 |
| | |
| Sigma 18-200mm OS 18mm at f/3.5 | Sigma 18-200mm OS 200mm at f/6.3 |
Images shot at 63mm and 200mm respectively, showing versatility of superzooms
Shot hand held at 200mm with a shutter speed of 1/13th second shows the effectiveness of the Sigma OS system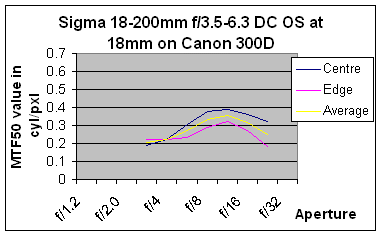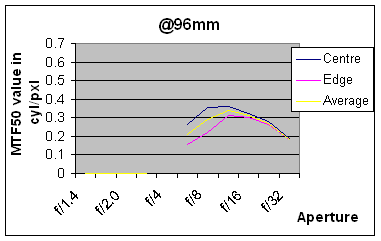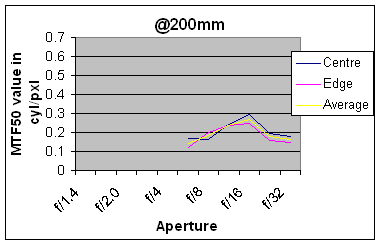 Sigma 18-200mm Verdict
Sigma must be congratulated for being the only independent to offer in-lens stabilisation and in this case, one that really works. It is not really required at the short end of the range but does become very handy as the focal length increases. With commendable optical performance for its type, the lens is well worth consideration.

In summary, the positive points of the Sigma 18-200mm f/3.5-6.3 DC OS are:



Good stabilisation system


Good build quality


Decent optical performance for type


Reasonably price

The negative points are:


Heavier than some


Some CA around the edges at wider apertures


Barrel distortion at the wide end.
The Sigma 18-200mm OS costs from £440 and is available at the ePHOTOzine shop here
I 've been a Canon shooter and used a 30D as my main camera for a year, and always wanted to get an UZ for my Canon EOS cameras.

So I bought it a bout a couple of months a go in Japan when it just out and I was disappointed with all photos I shot with it.

I returned and bought a D80 for with the Nikon's famous 18-200VR for walk around and travel light solution.

Well, how can I say, the Nikon is so nice and cool while this Sigma is ?

I think if you need an ultra zoom , get the Nikon with a Nikon body , this Sigma is nothing like the Nikon, focuses slow , not sharp , not really well designed.

Also, the Sigma AF at least my 2 copies were so capricious at best.

I think this lens also is too heavy for what it is, it is heavier than my Canon EF-S17-55 f2.8 IS or 24-105f4L IS, both of them are pro quality lenses not cheap travel lenses.
I agree with you. I was checking Canon lenses Lately to see if I can upgrade to the new XSi and which lenses would work for me. I found nothing thats satisfying. All their lenses either mediocre and affordable or excellent, heavy, and very expensive. Mid-range Canon cameras are excellent but their standard to mid-range lenses are not, unlike Nikon and Olympus. I considered Nikon but went with the Olympus E-510 and I'm glad I did, their kit lenses give 28-300mm (35mm equiv.) that produce equal quality images as Canon at half the price and weight.
I have this lense, its very good it covers the range well and reduces the amount of lenses you have to carry. Its definately better than the standard kit lense which is just dreadful.
However all the weaknesses that others mention I could blame the camera for, I have a Canon EOS 350. I tried the Nikon D80 and this was significantly better in my opinion than my camera or the majority of cannon offerings in this price range. I also tried it with the Sigma lense on and they worked well together and this suggests that this is a very good lense for the money.
When will Cannon make a camera as good as the nikon??
Add your message
Login required
Please
login here
or if you've not registered, you can
register here
. Registering is
safe, quick and free
.
photodo Stats
1102 lenses
428 MTF tests
74 in-depth photodo reviews
100+ users join each day
Help the lens community by reviewing or rating a lens today via our
lens search