Tokina AT-X DX 10-17mm f/3.5-4.5 Fisheye
Tokina, like Nikon, use the DX prefix for lenses designed purely for APS-C sized or 'cropped' sensors. With a field of view of 180° at the wide end on these sensors, we take a look at how this lens performs.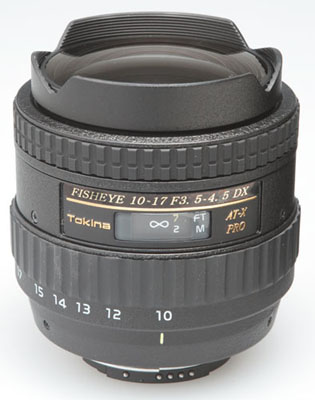 Specification
Focal length 10-17mm
Optical Construction: 10-8 elements/groups
Max Aperture: f/3.5-4.5
Min Aperture: f/22-32
Closest focus: 0.14m
Filter Thread: n/a
Dimensions: 71.1x70mm
Weight: 0.35kg
Mount Canon, Nikon
Price (SRP) £499.99
Build and handling
The lens is relatively small and lightweight for it's capabilities and sports a slightly retro 'crackle' finish that gives a not unpleasant feel to the optic. A conventionally styled lens, it has two rings separated by a distance window, marked in both metres and feet.
The first of the two rings operates the zoom mechanism and is marked at 10, 12, 13, 14, 15 and 17mm and is well torqued, giving a feeling of solidity to the zoom mechanism.
The front ring operates the focus mechanism and is torqued much more lightly when in MF mode but is stiff and not over-rideable in AF mode. The AF mechanism rotates the ring and does so with a quiet whine. It is, however, quite quick.
The front of the lens sports a fixed hood with no filter thread and the lens cap is a nice fit over the wings of the hood.
The zoom action is at it's shortest physical length at the 12mm mark but extends the front of the lens only marginally as you zoom to the two extremes of the focal length. There is, however, no method of using filters and with the 180° field of view at the widest, no point in trying to attach any.
Optical quality
Don't mix this lens up with some of the other 10mm offerings on the market, this is a fisheye lens and therefore uncorrected for perspective. Although the image fills the frame (and is not what is known as a circular fisheye), the distortion especially at the edges of the frame, is very noticeable. It is beyond the capabilities of Imatest to measure it.
Resolution at the centre of the frame is quite good and peaks with the lens stopped down just a notch with chromatic aberrations surprisingly well controlled across the full extent of the frame. Performance is best at the shorter focal length but the drop in resolution is minimal as the focal length increases. Flare, which is often a bugbear with this type of optic, is well controlled and ghosting is almost impossible to induce, a good omen.
By the nature of the lens, the edge performance drops but is still good considering the light has been bent to close on a right angle!
Click on each comparision photo below to view full size versions
Below is our lens test data. To find out how to use these graphs look at this article: How we test lenses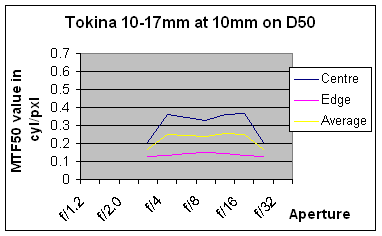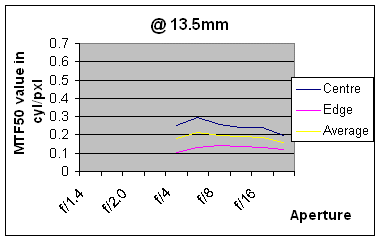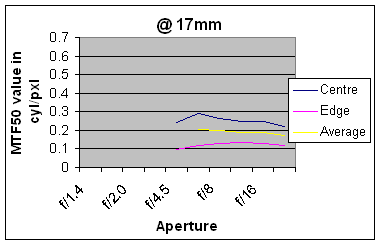 Verdict
Similar in optical construction to the Pentax 10-17mm lens, this offering from Tokina is well built and feels like it will last. As there is little weight penalty, it is a useful lens for those interested in panographic photography and those with a creative bent.
In summary, the positive points of the Tokina AT-X DX 10-17mm f/3.5-4.5 lens are:


Good construction and neat finish


Compact


Wide coverage of 180-100° on APS-C
The negative points are::


Restricted usefulness


Inability to attach filters


No manual over-ride of AF
Check the latest price of the Tokina AT-X DX 10-17mm f/3.5-4.5 lens here
Discuss this lens and other related lens subjects here
Test by Ian Andrews www.wildaboutkent.com
Ian wrote in the conclusion of his review that this zoom lens has no manual over-ride of AF.
This is definitely not the case for the Canon mount lens: I use it every day for panography: http://michel.thoby.free.fr/Tokina_10_17/Intricate_Panography.html

AFAIK Nikon have fitted their DSLR camera with a switch on the body
to over-ride the AF. So, why would this be a negative point not to have it on the lens?

Michel
In the context written, the lens has no over-ride without switching. Lenses with sonic drive motors can be over-ridden without recourse to switches either on the lens or the system body.
The difference is that by moving the focus on a non-over-ridable lens such as this, is that you are moving the working parts of the AF motor at the same time.
HIH

Ian
It would be nice to see the close focusing capability of this lens further discussed here. I don't own it, but being a Pentax owner, I do have interest in the Pentax version. And the close focused image samples I've seen certainly add to the uniqueness of this lens.

By the way, Herbert Keppler wrote about this fish-eye twice last year, with a particular comment about its close focusing.

http://keppler.popphoto.com/blog/2006/08/slr_worldclass_.html
http://keppler.popphoto.com/blog/2006/12/inside_straight.html

Cheers,
Usage of this lens is greatly widened by using Panini, a free application described here: http://www.flickr.com/groups/vedutismo/discuss/72157612059739386/

If you are interested in P&S "single shoot" panoramas (that is no pano-head nor tripod to carry, no problem when subject is moving) where:
- FOV is up to 140 degrees
- vertical lines are vertical
- the horizon is straight and don't lean
- the stretching next to the image sides is corrected
you should visit the Vedutismo Flickr group.

Warning: Panini is as a work in progress (but many nice improvements are planned.)
Add your message
Login required
Please
login here
or if you've not registered, you can
register here
. Registering is
safe, quick and free
.
photodo Stats
1102 lenses
428 MTF tests
74 in-depth photodo reviews
100+ users join each day
Help the lens community by reviewing or rating a lens today via our
lens search