Tamron SP AF 90mm f/2.8 Di Macro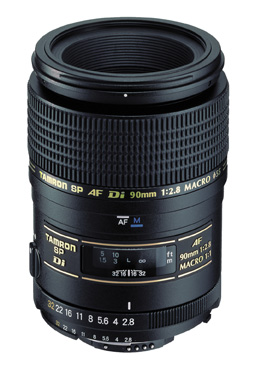 This lens is Tamron's contender in the useful area of 100mm Macro lenses. Nearly all of the major camera and third party lens manufacturers produce a lens in this category so this lens is up against some stiff competition. It is Tamron's re-vamped for digital version and here we take a look at how it stacks up.
Specification
Focal Length 90mm
Aperture f/2.8 (Actually reads f/3 in use)
Angle of view 27º
Filter size 55mm
Construction 10/9 elements/groups
Focus type AF/MF
Closest focus 290mm (1:1)
Weight 405g
Dimensions 71.5x97mm
Mounts available Canon, Nikon (D), Minolta, Pentax (72E).
Tripod bush No
Price (SRP) £370
Build and Handling
This lens comes boxed and includes lens and mount caps in the package, along with he multi-lingual literature but does not include any sort of case or soft pouch. It is a neat and light lens with a bayonet style hood. Nikon and Pentax fittings have an aperture ring just in front of the mount, which is not required on the Canon or Minolta mounts. Forward of this is a distance window marked with a usable depth-of-field scale. On the left of the barrel is a focus-limiter switch, a twist knob that feels a little flimsy. Most of the remainder of the barrel is taken up by the new focus ring, a push/pull affair with a positive click to change from autofocus to manual. Autofocussing was relatively quick for a dedicated Macro lens and the Limit switch worked on both sides of the stop, limiting from 0.45m to infinity or 0.29m to 0.4m. If you want to photograph something between 0.4m and 0.45m you will have to use the 'full' setting! These limits improved the autofocus even further.
The finish is a semi-mat black that looks quite smart. I would probably worry about the strength of the plastic lens hood if it was swinging over my shoulder but the on the whole the light weight of the lens will be a bonus for some.
Optical Quality
This lens is the upgraded 'Di' (digitally integrated) version of Tamron's well-established marque that has already achieved a good reputation. They have changed the coating to minimise reflections from the sensor as well as the improved focussing switch. The performance did not disappoint, save for the minor niggle that the peak figures were reached almost wide open, whereas macro photography by its very nature requires some serious stopping down. This does, however, make it a very handy, available light, portrait lens.
Colour and contrast were conveyed well and chromatic aberrations, though present, were not too much of a problem, managing to stay just inside acceptable limits.
| | |
| --- | --- |
| | |
| 1/250sec at f/8 and excellent performance. | At a peak of f/5.6 there is not a great depth-of-field. 1/30sec at 1:1 |
Below is our lens test data. To find out how to use this graph look at this article: How we test lenses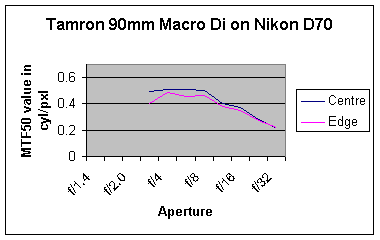 Verdict
This lens will not disappoint you with its sharpness, which is a match for its competition especially wide open. The lens actually read out as f/3 wide open which is not quite 'what it says on the tin', loosing almost a third of a stop but does come in straight away with good resolution figures. The weight does not inspire the confidence to go scrambling through undergrowth in search of targets with the camera on your shoulder, but looked after should prove a capable tool. Conversely, it proved light and easy to use, especially in small hands. (My wife's, not mine!)
In summary the main positive points of the Tamron SP AF 90mm f/2.8 Di Macro are:


Focussing speed (for a macro)


Performance wide open


Lightweight
Negative points are:


Build quality not quite as robust as some.


Peak in wrong place for Macro (but great for portraiture)


Lack of a protective case/pouch
Check the latest price of the Tamron SP AF 90mm f/2.8 Di Macro here and help support the site.
Test by Ian Andrews www.wildaboutkent.co.uk
My Tamron 90 came with a nice soft pouch. Bought it about a year ago. Seems to be a standard inclusion now - or only in Australia?

It's a lovely lens. Thanks for the review.
I wanted to discuss your conclusions about this lens reaching peak mtf too early.

Since MTF is a combination of lens aberations and irreducible diffraction degradation, the figures for high f no.s will inevitably fall, and there is a curve of MTF due to diffraction limits.

Also since most abberations decrease with increasing F no.s (not all tho.) you expect MTF to rise from wide open.

So if a lens is diffraction limited at f8 say then the peak of mtf will occur well below this when abberation and diffraction are about equal. So peaking early is a sign of better performance not worse? i.e. that the lens reaches the diffraction limited case at a lower than average f stop.

K.
Mine has a pouch as well, never used it though just like the hood. The front element is placed so deep within the barrel i never worry about it geting damaged/flairing.

I love this little lens. It's light, has a very nice focus ring and eventhough it's mostly plastic i still don't think it's all that fragile.

And the shots i get out of it are razor sharp and have very nice colour/contrast.

And mine does read F/2.8 unless i'm going for macro then the numbers go up. But who'd want to use F/2.8 in macro anyhow?
Just received mine straight from TAMRON ... pouch included.

I sport the SP AF 180mm f/3.5 1:1 Macro, also ... and yeah, it came with a nice zippered case, too.

Between the two MACROs, they are quite a pair. While the closest I can get with the 180mm is about 10 inches, with my SONY a700 ... the 90mm gets to within 3 inches. The 90mm f/2.8 seems plenty durable and makes for a lightweight PRIME to join the 50mm f/1.4 I carry for those low light sessions. It equates to 135mm on the SONY a700 APS-C sensor, so its portrait size & capability are right on target. The "LIMIT" switch is a nice addition to stop it from roaming into the MACRO area, during portrait focusing. I kind of wish the 180mmm had that feature, also.

It produces a nice, sharp image and makes for a very reliable shot each and every time, barring you jerking or moving the camera, of course. The added Image Stabilzation provided by the a700 gives this lens an added feature for low-light photography you just won't find on a Canon or Nikon.
The reviewer says this lens only goes to f/3 wide open. That depends on the focusing distance -- at some distances less than a few feet it does indeed only indicate f/3 in the viewfinder display, but at longer distances it shows f/2.8. This of course is correct; relative aperture becomes smaller as a lens is focused closer -- whether this shows in the viewfinder display or not. The Tamron 90mm macro always shows the actual effective f-number. Not all macro lenses do this.

Also, the latest version of this lens in the Nikon mount has a built-in motor so that it autofocuses on the D40, D40x and D60 models which of course the earlier model does not since it requires the in-body motor for AF. I assume the new model focuses faster too, but not owning the earlier model I cannot make this comparison. It certainly focuses fast enough for me, at ordinary working distances.
Add your message
Login required
Please
login here
or if you've not registered, you can
register here
. Registering is
safe, quick and free
.
photodo Stats
1102 lenses
428 MTF tests
74 in-depth photodo reviews
100+ users join each day
Help the lens community by reviewing or rating a lens today via our
lens search