Sigma 150mm f/2.8 APO Macro DG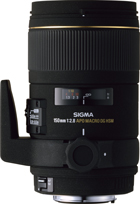 Sigma have added a fourth dedicated macro lens to their already good line-up. The lens' 150mm focal length, it fills the gap between the existing 105mm and 180mm offerings. It manages to maintain the larger aperture of the 105mm lens at f/2.8 whilst getting close to the focal length offered by the 180mm. The lens is not a copy of either, but a brand new design. We take a look at what it has to offer.
Specification
Focal Length 150mm
Aperture f/2.8
Angle of view 16.4º
Filter size 72mm
Construction 16/12 elements/groups
Focus type Internal HSM
Closest focus 380mm (1:1)
Weight 895g
Dimensions 79.6x137mm
Mounts available Sigma, Canon, Nikon (D)
Tripod bush Yes, removable
Price £500
Build and handling
The lens comes supplied in a well padded zip-topped case complete with shoulder strap and, being an EX lens, an extended two year warranty making three years warranty in all. The lens is also supplied with a dedicated lens hood of the bayonet type that has a click-stop to ensure it stays in place. The whole thing is finished in the EX matt finish which is both smart and hardwearing.
Also included with the lens is Sigma's quick-release tripod mounting collar with the half turn and pull release mechanism, handy if you want to release the camera from a tripod or other mounting for a quick grab shot of a passing insect or the like.
In front of the mount is the switch for the manual/autofocus changeover (omitted on Nikon) in a slightly higher position than usual. This avoids it being hidden behind the tripod mount knob. The tripod collar sits between this an the focus limiter switch, which is a three position affair on this lens, giving full operation, 0.52m to infinity and 0.38 to 0.52m. More in a minute. Mounted on a tripod, the rig was well balanced.
A distance scale window is next up, marked in metres and feet, followed by the broad manual focus ring which has a quality feel and good ribbing to grip on. This is required because there is a full three-quarters of a turn between infinity and the closest focus of 38cm. All in all a well presented lens.
Optical quality
Focusing has always been a bugbear of macro lenses and in this design Sigma have gone a long way towards overcoming some of the problems. The lens focuses internally, so the front does not extend out towards the subject. This is a big plus point.

The inclusion of a HSM motor also speeds things up, but unfortunately not exceptionally so. It does, however, make the operation a lot quieter! The splitting up of the focus limiter into three helps again, by restricting operations to the short end OR the long end or the full range. The only niggle here is the switch, which can easily be pushed through the middle position without stopping. You guessed it; the middle position is the one you will want to use most often, being the 0.52m to infinity!

With no zoom mechanism to complicate matters, macro lenses tend to produce better results as they are considered prime lenses. Certainly the control of anomalies such as chromatic aberration and distortions have been well cared for in this lens, there being none apparent to the naked eye. Contrast and colour balance are also good. However, it seems that the engineering required to keep the focusing internal has lost some of the 'zing' you would expect from a lens of this type and it was not quite as sharp as I would have liked to have seen! That is not to say the lens is soft, but not quite as sharp as say, my Sigma 105mm.

This lens will work with Sigma's 1.4x and 2x converters to give a 210mm f/4 AF with the 1.4x and a 300mm f/5.6 MF tele-macro lens respectively. I tried it with the 1.4x converter, which still autofocused and dropped surprisingly little in quality in the process, especially at the optimum settings.


Close up of jewelry using a 1/2sec at f/16 exposure on the Sigma SD10 at ISO100


Close up of a coin taken at 1/3sec at f/8 using the Sigma SD10 at ISO100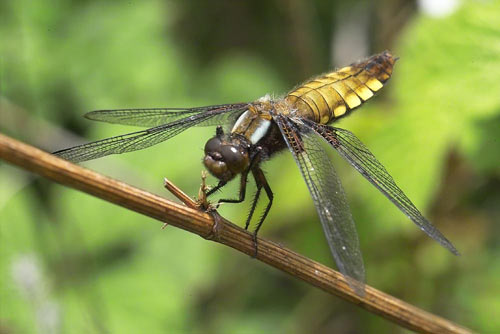 Dragonfly at 1/320sec and f/11 using the Sigma SD10 with CCD set to ISO400 sensitivity
Click on each comparison photo here to view full size versions
Below is our lens test data. To find out how to use this graph look at this article: How we test lenses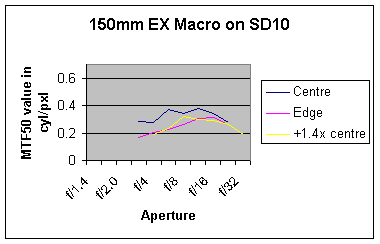 Verdict
A well made and thought out macro lens with enough focal length to enable skittish insect photography without putting them to flight. Quiet and faster focusing with the ability to restrict the focusing to the area you are working in improves the experience also. Good balance on the excellent tripod collar makes for easy tripod work. Good, but not outstanding picture quality. A nice lens.
In summary the main positive points of the Sigma 150mm f/2.8 APO Macro DG are:


Quiet Focusing, quicker but not lightning.


Lens does not extend, front element does not rotate.


Excellent tripod collar.


Ability to accept same make converters
Negative points are:


Not quite as sharp as some.


No belt loop on pouch
Check the latest price of the Sigma 150mm f/2.8 APO Macro DG here
Test by Ian Andrews www.wildaboutkent.co.uk
extremely sharp,Amazing color,but focusing is not II USM
http://mypalm.ath.cx/gallery/thumbnails.php?album=172
My copy is sharper than my Nikon 180 ED D.
1) With Olympus E-500 (4/3 mount) very sharp (crop 2 - chip uses only the best center part of lenses ???)
2) Belt loop included in very good pouch

Conclusion - much better than 105mm macro (4/3 mount), but little heavy and large. Very recommended for Olympus cameras. I think, this is the best macro lens for Oly.
Watch out for using this lens in 4/3 mount: if you have an E-3, the lens will need to be sent in for service before it will focus correctly. Depending on the idividual lens, this may be as simple as updating the firmware, or as time-consuming as waiting for a replacement circuit board for an uncommon lens in a rare mount.

Matthew Robertson
www.thewsreviews.blogspot.com
http://thewsreviews.blogspot.com/2008/08/sigma-150mm-f28-macro-in-four-thirds.html
I have to say, I have Sigma 70/f2.8, 105/f2.8 (the wife's) and the 150/f2.8 Macro lenses and without doubt, the 150/f2.8 is the sharpest of the bunch! I do tend you use it almost exclusively, with an EOS 5D attached to a good tripod and using mirror lock-up with an electronic shutter release cable. Used hand-held, it is a little heavy and with the magnification, a fast shutter-speed is required to eliminate camera shake. Although the lens produces great results even wide open at f2.8, stopping down one stop to f4 really brings sharpness to a premium and in my example, it stays really first class until f13.5 where difraction begins to effect sharpness slightly. However, the lens is still capable of extremely good results even at f22.
Add your message
Login required
Please
login here
or if you've not registered, you can
register here
. Registering is
safe, quick and free
.
photodo Stats
1102 lenses
428 MTF tests
74 in-depth photodo reviews
100+ users join each day
Help the lens community by reviewing or rating a lens today via our
lens search