Sigma 70-200mm f/2.8 APO EX HSM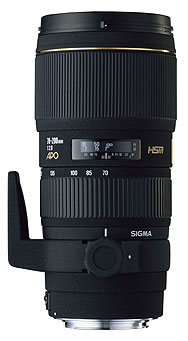 This is possibly the most desired additional lens type for any SLR owner, reaching out from the top end of the 'standard' range to medium telephoto and one that is almost universally offered by all the manufacturers. At a wide-open aperture of f/2.8, this offering from Sigma is competing with the big boys!
Specifications
Focal length 70-200mm
Angle of view 34.3-12.3degrees
Max Aperture f/2.8
Filter size 77mm
Construction 17 elements in 14 groups
Focus type Internal HSM
Closest focus 1.8m
Size 86.2x184mm
Weight 1.27kg
Mount Sigma, Canon, Nikon, Minolta, Pentax,
Tripod Bush Yes, supplied
Build and Handling
As you unpack this lens you find it is supplied in a well padded case and with it comes a dedicated lens hood and the usual lens and mount cap. Being an EX designated lens, you will find the two year extended warranty card from Sigma-Imaging UK, giving a total of three years warranty. There is also a multi-language leaflet explaining the lens's functions.
The weight and feel of the lens is pleasing as it is slightly lighter than it's predecessor and sports the matt textured EX finish. Already mounted on the lens is the removable tripod collar with a good-sized released knob. This is Sigma's quick release type with the hinge and pull knob that can be removed without dismounting the lens from the camera. The collar has two white lines marked on it to indicate horizontal (landscape) and vertical (portrait) orientations. It is easier by far to turn the lens and camera combination in this collar than to contort the tripod head off centre to achieve a portrait style shot. The collar is well placed at the balance point with a camera fitted.
The lens has Sigma's HSM (HyperSonic Motor) focussing system that is not only relatively quiet in operation but allows manual over-ride without turning the autofocus off. The internal mechanisms of the focus and the zoom systems on this lens means that it stays at a constant length at all settings. Polarising filters are easy to use, as the front element does not rotate during operation.
The zoom ring has a grippy surface and is smooth in operation without being too stiff. Markings indicating the focal length occur at 70, 85, 100, 135 and 200mm.
The focus ring is nearly twice as wide and is situated in front of the zoom ring and distance window. It has a similar grip surface in a slightly smaller pattern, a tactile difference that further helps differentiate the two. This seems a little loose at first until you realise that it is clutched to facilitate the autofocus and stiffens up as soon as it is used to manually focus. Focussing was quick, with little hunting in all of the versions we tried.
The distance window, situated between the two adjustment rings, gave a good indication of the focus distance and was also marked with a standard depth of field scale for the wide end at f/11, f/16 and f/22. Marks for f/22 at the tele end are also given.
On all but the Nikon mount version, a switch of the push-pull variety for the auto/manual focus change is situated on the left side of the lens near he mount to the camera.
Optical performance
Lenses with large apertures attract large prices because they have to be well designed and made to produce satisfactory results when used wide open. And in this respect, this lens was surprisingly pleasing. As with any lens, stopping down slightly improves the performance and this was also the case.
At the 70mm end the lens performed best at around the f/8 mark before starting on the downward slope towards reciprocity, whereas at 135mm and above it continued to improve to between f/11 and f/16 before peaking.
The lens performed slightly better at the 70mm end of the zoom range than at the 200mm end, but was still sharp enough at the long end for all practical purposes.
Chromatic aberration is very well controlled throughout the entire zoom range and the worst case I could find was near the edge of the frame at f/22 with the lens fully extended and that was still well below the threshold where it would become apparent to the naked eye.
I would rate the colour rendition and contrast of this lens as good, with the colour being neutral rather than cold or warm. Contrast was maintained throughout the range, even wide open.
Click on each comparision photo below to view full size versions
| | |
| --- | --- |
| 70-200mm at 70mm and f/8 | 70-200mm at 200mm and f/8 |
| 70-200mm at 70mm and f/2.8 | 70-200mm at 200mm and f/2.8 |
Below is our lens test data. To find out how to use these graphs look at this article: How we test lenses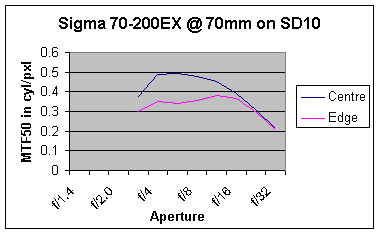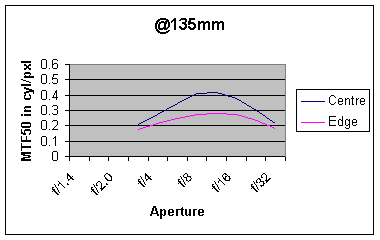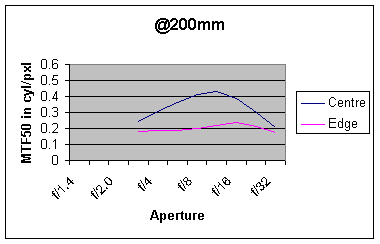 Optional Converter
This is another of the lenses that Sigma state is matched to their dedicated tele-converters, the 1.4x EX and the 2x EX.
With the lens fitted to the 1.4x EX the lens becomes a 98-280mm f/4 fully autofocusing zoom and with the 2x EX converter it transforms to a 140-400mm f/5.6 autofocus, both of which are still relatively small in size and retain the non-extending/rotating advantages of the mother lens. The autofocus speed is virtually unaffected with the 1.4 EX fitted, although it slows and hunts a little more with the 2x EX in the light path.
Verdict
A pleasing improvement over it's predecessor which is well built despite the weight saving. It feels right. The petal hood is also an improvement that is a better fit, especially when reversed. The addition of HSM makes a considerable improvement to the autofocus speed.
The weight and size made this a comfortable lens to keep on the camera all day when appropriate. The only drawback over some of the marque lenses is the lack of a stabilisation system, but this is accounted for in the price, which is excellent.
In summary the main positive points of the Sigma 70-200mm f/2.8 APO EX HSM are:


Optical quality


Weight and balance


Performance with converters


Tripod mount.
Value for money
Negative points are:


Competing against stabilised lenses/ no stabilisation


Autofocus slightly slower than marque lenses.
Check the latest price of the Sigma 70-200mm f/2.8 APO EX HSM here
Test by Ian Andrews www.wildaboutkent.co.uk
Hi,
The sample photo of the maritime museum (70-200mm at 200mm and f/2.8) seems a little blurry throughout the frame... do you know if the shot was out of focus slightly, or is this the degree of sharpness I can expect from this lens when used at 200mm / f2.8?

Cheers,
Alan
I see CA in two of the shots, wide open at 70mm and in the bottom right segment of the clock tower shot at f8.

I also notice that wide open this lens is extremely soft even at 70mm in the center of the frame.

It is clearly MUCH MUCH softer than the Canon 70-200mm shots you have posted on this very website.

Please tell me what the shit is you are smoking because your results ARE FUCKED THE HELL UP!!!
Hey mayaman, comments like "Please tell me what the shit is you are smoking because your results ARE FUCKED THE HELL UP!!!" are not necessary and unwanted, chill dude
This is an OUTSTANDING lens. The proof is in the results.

http://www.emergencyphoto.com

Highly recommend this one!
Mayaman - can't express your feelings another way? Constructive critique is much better !
Yup mayaman, your gramma is crap too!

However, I do agree that this lens is disappointing. I won my example in a photo competition and like every lens I buy (or win!), I carried out exaustive tests on it. Frankly, I found it really quite disappointing.

It 'was' (have sold it on!) very poor at max aperture at any focal length but particularly so at 200mm. It could only attain a satisfactory level of IQ in the centre, at between f/5.6 and f/11. However, the edges and corners were still not up to an acceptable level. Performance further decreased towards the smaller apertures as expected, where due to diffraction, it finally became totally unusable.

CA's were very evident in this lens - at all apertures and at all focal lengths although, as would be expected, they were particularly bad at f/2.8 and 200mm. Worse still, the CA's were really quite extreme (up to 3 pixels!) and also of a somewhat soft and blurry nature which made them virtually impossible to irradicate in software.

Compared to my Sigma 100-300mm f/4 EX DG (which IS superb) this lens is a non-runner. As I said, I sold mine!

David Chamberlain
Add your message
Login required
Please
login here
or if you've not registered, you can
register here
. Registering is
safe, quick and free
.
photodo Stats
1102 lenses
428 MTF tests
74 in-depth photodo reviews
100+ users join each day
Help the lens community by reviewing or rating a lens today via our
lens search