Canon EF 70-200mm f/4L IS USM
Canon achieves four stop Image Stabilizer with their latest 70-210mm USM zoom
Canon EF 70-210mm f/4 IS USM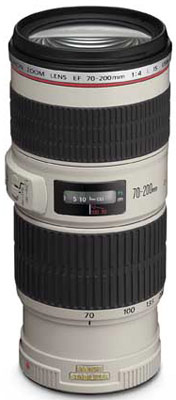 Press release:
Canon today announces the EF 70-200mm f/4L IS USM, Canon's first interchangeable lens with 4 stop Image Stabilizer. This allows hand held photography with no perceptible image blur at shutter speeds up to 4 steps slower than otherwise possible – ideal for low light shooting without tripod or flash.
Dust and moisture resistant, compact, manoeuvrable, and incorporating Canon's finest standards of precision optics, Canon's latest professional L-series lens is expected to be popular for travel, expedition and wildlife assignments where there is a requirement to travel light without compromising image quality.
The EF 70-200mm f/4L IS USM features
Compact lightweight body - 760g, 172mm length
4 stop Image Stabilizer with 2 modes
1 x Fluorite and 2 x UD lens elements for superior optical performance
Ring type USM auto focus with full time manual override
Circular aperture diaphragm for even background blur
Environmental seals for dust and moisture resistance
Super Spectra coatings to suppress ghosting and flare
1.2m minimum focus distance
Lens hood and soft pouch
The EF 70-200mm f/4L IS USM offers a lightweight alternative to the renowned EF 70-200mm f/2.8L IS USM, complementing Canon's other professional L-series lightweight zooms such as the EF 17-40 f/4L USM and EF 24-105L IS USM. f/4L lenses are designed for professional photographers requiring a light zoom lens with a fixed aperture throughout the zoom range. The lens adds Canon's proven Image Stabilizer technology to the popular EF 70-200mm f/4L USM while maintaining that lens' compact size.
Image Stabilizer
4 step Image Stabilizer (IS) extends low light options to previously unimaginable levels. Photographers normally shooting handheld at 1/250 sec can switch on IS to obtain a similarly steady and blur-free result with a shutter speed of just 1/15 second.
IS reduces dramatically the image blur caused by camera shake. Gyro sensors detect unwanted vibrations, triggering the corresponding movement of a correcting lens group perpendicular to the optical axis. This alters the light path, returning the image to its correct position on the sensor or film plane.
For shooting immobile subjects, Mode 1 corrects for movement in the image along both the horizontal and vertical axes. For shooting while panning horizontally to follow a moving subject, Mode 2 turns off vertical correction and prevents the effect of dragging the subject back through the frame.
IS switches off automatically when the camera is mounted on a tripod, thus preventing feedback loops between the IS sensor and internal motor vibrations.
Superb autofocus
The lens' Ring-type USM employs ultra-sonic frequency vibrations to drive auto focus with unrivalled speed and near-silent operation. A powerful CPU and improved AF algorithm contribute to speed performance. Good holding torque stops the lens with precision and accuracy, the instant it arrives at the correct focus point and without overshoot. Photographers can switch to manual focus instantly and at any time simply by moving the manual focus ring without first having to switch out of auto focus mode.
f/4 from 70 to 200mm
The EF 70-200mm f/4L IS USM offers the highest possible optical quality with no change in aperture over the full focal range of the lens. This allows photographers to set exposure at the widest aperture and zoom all the way through to 200mm without having to decrease shutter speed. Lens length does not alter during zooming and the front lens element does not rotate during zooming or focusing. The lens employs an almost perfectly circular barrel aperture, helping create attractive, even background blur.
Image quality
A newly designed optical system limits lens size and improves image clarity over the total image area. 1 x Fluorite element and 2 x Ultra-Low Dispersion glass elements are used to eliminate the secondary chromatic aberrations that otherwise reduce sharpness and introduce colour fringing. By optimising Super Spectra lens coatings and lens element shaping, Canon's engineers have been effective in suppressing flare and ghosting – more prone to occur with digital cameras due to reflection off the image sensor. By increasing light absorption, coatings reduce reflections off lens element surfaces to deliver crisp, undistorted images with natural colour balance.
EOS system integration
The EF 70-200mm f/4L IS USM includes distance metering information, providing compatibility with the E-TTL II flash system of late model cameras such as the EOS-1D Mark II, EOS-1Ds Mark II, EOS 5D and EOS 400D. When used in conjunction with Canon's range of EX Speedlite flash units, the lens passes distance information to the flash algorithm for markedly improved flash exposure metering. To match the weather resistance afforded by EOS-1 pro camera bodies, an O-ring seals the lens against the lens mount to prevent the ingress of dust and moisture.
AF Mode and IS switches have been reshaped, making them less susceptible to being engaged or disengaged accidentally.
The EF 70-200mm f/4L IS USM comes with a lens hood and lens pouch.
In keeping with Canon's Kyosei philosophy of living in harmony with the environment, the lens features only lead-free glass.
Availability and reader enquiries
The EF 70-200mm lens will be priced around £989.99 RRP VAT INC (€1429.99) and available late September.
Reader enquiries
UK – 08705 143723 / www.canon.co.uk
Eire – (01) 2052400 / www.canon.ie
I have been hoping (and I thought hoping in vain) for the introduction of this lens. I have the 70-200mm f/4L and love this lens for its great imagery and light weight. I have often commented that if Canon were to produce an IS version at about the same price or less than the non-IS 70-200mm f/2.8L, at the same or similar weight as the 70-200mm f/4L and with equivalent quality of imagery and build; it would definitely be on my shopping list in the VERY NEAR FUTURE.

Many comments on various forums try to compare the prospective MSRP of this lens to the street prices of the non IS f/4L as well as the IS and non-IS f/2.8L lenses. Whenever street prices are compared against MSRP, the unit price based on MSRP will appear the most expensive. We do not know as yet, what the street price of the f/4L IS will be, so we cannot make any assumptions about whether the lens is "too expensive" or not.

As for me, the price is not the dictating factor. The weight is the factor that will make me decide on the f/4L IS as opposed to either the 70-200mm f/2.8L IS or non-IS models. I carry three lenses and two bodies. My lenses are 12-24mm Tokina f/4, 24-70mm f/2.8L and, presently, the 70-200mm f/4L.

I have long wished for an IS version of the 70-200mm f/4L lens to enable me to use it hand held in lower light levels but, still be light enough to carry as part of my trio of lenses. I considered and rejected the 70-200mm f/2.8L IS because it is about a pound and a half heavier than the 70-200mm f/4L. I suspect that I would not be willing to carry the f/2.8L IS on a daily basis and would reserve it for "special occasions". I want an every-day lens!

I considered (because of the light weight) the new 70-300mm f/4-5.6 IS lens, but rejected that lens because of the inherrent QC problems (200-300mm being soft in the vertical configuration) AND because the front element rotates when focusing (making it unhandy to use with a CPL filter).

THIS IS WHY I WILL BUY ONE:

The 70-200mm f/4L IS will be just the lens that I want! At a bit over one ounce heavier than its non-IS brother, I will have no problem carrying it everywhere. The f/4 aperture is fine because I am not a sports shooter. The non-rotating front element makes using a CPL no problem. The size of this lens is in keeping with my present lens so my foam lined storage case will fit the new lens. I have a tripod ring, so that extra expense is no problem to me. My 1.4x TC will get extra use. I only use it now with either a tripod or a monopod. The 1.4x TC on a 1.6x camera will provide an equivalent 448mm f/5.6 lens which I just might be able to shoot at 1/250 second or slower, and get sharp imagery.

All in all, I believe that the new 70-200mm f/4L IS lens will be just the piece of glass that I need to add to my equipment.
Add your message
Login required
Please
login here
or if you've not registered, you can
register here
. Registering is
safe, quick and free
.
photodo Stats
1102 lenses
428 MTF tests
74 in-depth photodo reviews
100+ users join each day
Help the lens community by reviewing or rating a lens today via our
lens search