Sigma 100-300mm f/4 EX DG
Here is a lens from Sigma that fits into the medium to long telephoto range and is a step up from the average 70-300mm models. It sports a constant aperture of f/4 and Sigma's HSM autofocus motor. We take a look at how it performs.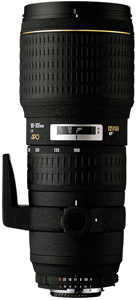 Specification
Focal length 100-300mm
Max aperture f/4
Min aperture f/32
Construction 16/14 elements/groups
Closest focus 1.8m
Reproduction ratio 1:5
Filter size 82mm
Dimensions 92.4x227mm
Weight 1.44kg
Price (SRP) £899
Build and handling
The lens is one of Sigma's EX range and is finished in their matt black with white engraving and a little gold for the logos. This finish has proved to be quite hard wearing and is certainly quite smart in it's looks. There is an AF/MF switch in the usual place and the lens comes supplied with a tripod collar that is Sigma's quick release design that I have expounded on before in these pages. Next comes a 35mm wide zoom ring, three quarters of which has a comfortable ribbed rubber finish. It is marked at the 100, 135, 200, 250 and 300mm points and is torqued very slightly on the stiff side, giving the impression that it is built to last.
A neat, flush, distance window separates this from the larger (75mm) manual focus ring which is again covered for three quarters of its length with a matching rubber ribbing.
Autofocus is achieved with HSM, Sigma's hypersonic system that is both quick and virtually silent in operation. The lens stays the same length throughout both focussing and zooming, and without the front element rotating, making life for filter users easy with the 82mm filter thread. Also supplied with the lens is a front lens hood that is more or less a bucket shape with the slight exception of a small cut-out to stop vignetting at the wider setting. The hood is a nice, snap bayonet, fitting that stays in place during use.
The lens is also compatible with Sigma's EX Teleconverters and retains autofocus when used with the 1.4X version.
Optical quality
As could be expected of a modern zoom lens design, this one is fairly well put together. Even the mathematically challenged can see that the zoom ratio comes in at 3:1 and this is the accepted limit where compromises in design start to raise problems. Things like distortion are well controlled and measured figures of –0.1% (barrel) at the short end and 0.45% (pincushion) at the full stretch of the lens are negligible and cannot be seen with the naked eye.
The new digital coating Sigma have applied to all of their lenses, to cut out light reflected back from digital sensors bouncing around inside the lens, has had the added benefit of improving contrast and the same is true of this optic. Resolution is pleasing and the performance in this department is very close across the frame with very little drop-off towards the edges. A bonus for users of full frame equipment.
The one area where there is a slight disappointment is in the control of Chromatic Aberrations (CA). There is no evidence anywhere in the range at the centre of the frame; however, at the longer focal length the anomaly does start to creep in at the very edges. Most of the time, and under a lot of circumstances, it would not be noticed, but it is there.
| | |
| --- | --- |
| | With the lens set at 300mm on a tripod and the 20D camera set to aperture priority, playing around with the aperture settings can either isolate a part of the subject or include most of it in focus. F/4 and f/16 were used on these two shots at ISO100 |
| | 300mm is a good length for some wildlife work, as seen here trying to catch Sand martins flying in and out of their burrows. As an f/4 lens, it will retain autofocus when used with Sigma's dedicated 1.4x converter. |
Click on each comparision photo below to view full size versions
Below is our lens test data. To find out how to use these graphs look at this article: How we test lenses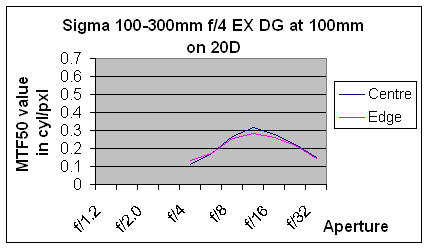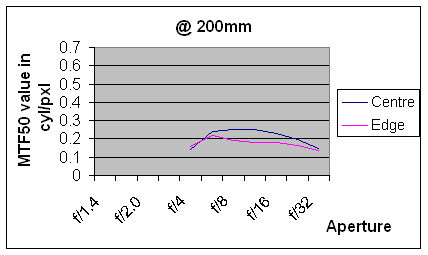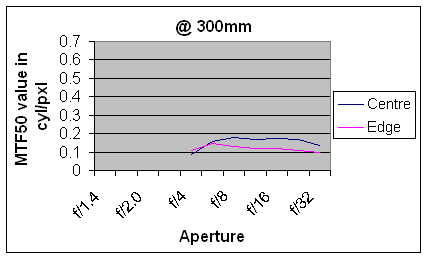 Verdict
As a step up from the run of the mill >300mm zooms this lens is certainly worth considering. The constant aperture and faster, quieter autofocusing make all the difference, ably helped by a constant length and internal focus mechanism to make handling a joy. Four SLD glass elements in the construction help to make a nice improvement to the output quality too.
In summary, the positive points of the Sigma 100-300mm f/4 EX DG are:


Constant aperture and length


Fast, silent autofocus


Good contrast and resolution
The negative points are:


Bigger size and weight than the lower group


Some CA around the edges at the long end.
Check the latest price of the Sigma 100-300mm f/4 EX DG here
Discuss this lens and other related lens subjects here
Test by Ian Andrews www.wildaboutkent.com
I'm curious about the test of Sigma 100-300 f/4 EX DG. The photos of the clocktower are allright, but the photos of the stonewall are rather unsharp and blurry. How come? Ater all this is a rather sharp lens as i've learned from reading different tests, and studying a large numbers of photos taken with this lens. It even looks good with 1x4TC, so i'm a bit confused why the stonevall is so unsharp. I'm planning to buy a Canon 400D (Xti) and this is one of the lenses i've been looking at. It's rather expensive so i dont want to be dissappointed. If anyone could answer this to me i would be wery happy. My english is not at top so i hope you'll disregard from my grammar.
I too think there are problems with sample photos here. I've this lens and it's really great, never so unsharp. If you look well the 300f8 sample is the same photo that's in the sigma 28-300 review too...
Thank you stefanOn for your observations and for your reply.It's good to hear from someone that owns this lens how it really works.I mean ,it's rather expensive and i dont want to be disappointed.
I bought the Sigma 100-300 f/4 and have found it to be a very sharp lens. I too was first concerned about sharpness because of this one review and that 300mm soft image, but all other reviews, forums and personal image websites convinced me that this lens is worth owning because most image examples were very sharp and detailed images. I have wildlife shots now that amaze me because of the image detail. Very highly recommended lens.
Strange, but the 300mm shot of the clock tower is the exact same shot as you have on the cheaper Sigma 28-300mm F3.5-6.3 review located at http://www.photodo.com/topic_224.html.
This lens is exceptional in my estimation for a 3rd party optic. The lens I have (non-DG) I bought used from Bill Booz (Bill Booz Photography) when he decided to replace it with an "L" lens. If you check his website all of the shots on there were done with the Sigma prior to his getting the Canon lens last year. From that no one should have any doubt about the quality of the photos this lens can produce.
Yes, I have one of these and can vouch for it's superb performance, unusually, even at the longest focal length. This is really one of the sharpest mid-range zooms I have EVER used or owned. However, in my opinion, unless used on a really sturdy tripod, you are never going to get the best out of any such lens.
As gwtx2 above has pointed out the 300mm F8 shot attributed to this lens is the same as the one for the Sigma 28-300mm. Someone has confused their images and the readers.
It is clear that there has been not just a single picture substitution, but a pair. the 28-300 lens gets the better 300mm shot of the clock tower as mentioned by gwtx2 above, (also noted at the 28-300mm review) and the 100-300mm also gets the 300mm window shot from the cheapo lens. This explains why every comment on this lens is incredulous about the cruddy shot of the window at 300mm. Does anyone here read these posts?
Add your message
photodo Stats
1102 lenses
428 MTF tests
74 in-depth photodo reviews
100+ users join each day
Help the lens community by reviewing or rating a lens today via our
lens search