Nikon AF-S VR Micro-Nikkor 105mm f/2.8G IF-ED
Nikon have raised a few eyebrows with the introduction of this lens as it is the first true Macro lens to carry stabilisation, Nikon's VRII vibration reduction. Winner of the prestigious TIPA award for the best professional lens, we take a look at how it performs.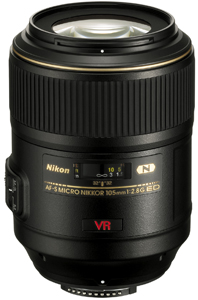 Specifications
Focal Length 105mm
Max aperture f/2.8 (reads f/3)
Min aperture f/32
Min focus 0.31m (working distance 0.15m)
Construction 14/12 elements/groups
Filter size 62mm
Hood HB-38 (Supplied)
Dimensions 83x116mm
Weight 0.72kg
Price (SRP) £599
Build and handling
This lens comes supplied with a lens hood, body and lens caps and a soft, draw string pouch to keep it in. With a diameter of 83mm the lens is a touch fatter than you might expect with a lens of this nature but with a constant length of 116mm it is no longer than normal. The clean, simple barrel has just three accoutrements, a manual focus ring, a distance window marked in metres and feet with a reproduction ratio scale for good measure and a control panel sporting three two-position switches. These control, from top to bottom, the AF/MF, focus limiter and VR on/off. The build quality of all the elements is up to Nikon first class standards.
The idea of introducing Nikon's newest version of VR to a Macro lens, especially at the focal length that is most popular with photographers is a good one, taken the number of extreme close-up shots that are ruined by camera shake. Does it work? Well, yes it does and I spent a day chasing butterflies and insects to check out their claims of up to 4 stops slower shutter speeds being needed between 3m and infinity. They do explain in their literature that, as magnification increases, so does the effect of camera shake, however, even at closer distances I found the VR system helped get more 'keepers'. The AF-S autofocus system is a joy to use given that it is silent and very quick for a dedicated macro lens. The focus limiter, which only stops the focus going shorter than 0.5m, improves this speed even further in normal use. The system also allows manual over-ride without switching, another bonus.
The 62mm filter thread adorning the non-rotating front element is a popular size and the hood fits bayonet style with a positive click.
Optical quality
So, all in all a well thought out and put together lens, but how does it perform optically? The answer to that is, astonishingly well! There is no distortion that can be seen with the naked eye and the Imatest module could only measure 0.27% pincushion. Chromatic aberration is so well controlled that throughout the aperture range, which, incidentally, is a massive 8 stops, it never comes close to the threshold where it becomes visible, let alone a problem. The resolution, although slightly softer at the edges at wider apertures, never gets to the point where it would be visible on an A4 print and the average resolution at f/8 is one of the best I've ever seen.
With a construction of 14 elements in 12 groups including one ED element and one utilising Nikon's nano-crystal coat to cut down internal reflections, the lens delivers good contrast and colour rendition across the frame. In fact, the only thing I could find that could be described as a negative is that, wide open, the lens only registers as f/3-3.1 and that is less than a third of a stop.
On the bonus side, internal focussing keeps the lens a constant length and Nikon are honest enough to provide a working distance as well as the more common closest focus distance. This lens gives a working distance of around six inches (150mm) depending on the camera body whereas, by tradition, the closest focus distance of 31cm, which is measured from the film/sensor plane is around twice that!
At 720gms weight, the lens is not so heavy that it becomes a pain when carried for long periods on the camera dangling from your neck, a practice that I am sure the vibration reduction will go a long way to encourage. It is certainly lighter to hump around than a heavy tripod and that is why Nikon have produced the lens.

A 100% crop from the centre area of this hand held shot with VR engaged. f/11 at 1/60sec in a slight breeze.



Above: 1/25sec and f/14 were the settings for this handheld shot with VR engaged.

Right: Again hand held, this shot at f/11 and 1/180sec shows the contrast and clean backgrounds supplied by this lens.
Click on each comparision photo below to view full size versions
Below is our lens test data. To find out how to use these graphs look at this article: How we test lenses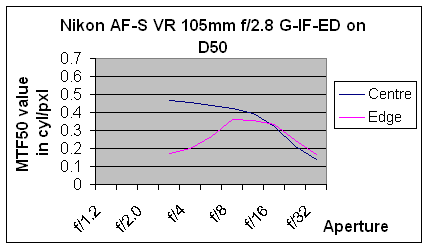 Verdict
There is not a lot I can criticise about this lens considering the optical performance along side the build quality and features. I think it will find a lot of friends amongst both professionals and keen amateurs alike. The only downside to the lens is the price, which is a bit steep for a type of lens that many will already have in their kit. Is it worth an upgrade? If you suffer from camera shake, yes!
In summary, the positive points of the Nikon AF-S VR 105mm f/2.8 IF-ED are:


The only true macro with stabilisation. And it works


Truly superb optical quality


Rapid and silent autofocus
The negative points are:


The price


Drop-off in resolution at the edges when wide open. (Minor)
Check the latest price for the Nikon AF-S VR 105mm f/2.8 IF-ED
Test by Ian Andrews www.wildaboutkent.com
How does it compare with the Nikkor 105mm f2 DC AF ??
Not tested the 105mm f/2, so therefore cannot comment, however, it is a very nice item of kit.

Ian
I have the D200, F80 and FA bodies and I'm planning to buy a large aperture 105mm lens for portrait and street snap. Wonder whether to get the AF-S VR 105mm f/2.8 or AF 105mm f/2 since both are priced nearly the same.

The performance of the classic AF 105mm f/2 is known to be very fine, but I really have some reservations spending bucks on a long-to-be-overhauled AF screw.

At the same time, despite great paper spec. for AF-S VR lens, I'm not sure if it can really translate into real world performance rather than some marketing hype.

If anyone have tried both and provide some comments on both 105mm lens, that would be great!
I too am very interested in the 105mm AF-S VR lens, mainly for its macro capability. I currently own a 105mm f/2.5 AIS and a 105mm f/2 DC AF.

With reference to Cayuga's post: while I obviously can't comment on the new AF-S VR lens, I can tell you that my older 105 f/2 AF lens is an absolute GEM, perhaps the best Nikon lens ever made for portraits. I also have a 85mm f/1.4, but I would not trade my 105 f/2 for anything else for portrait work. Auto-focusing is adequately-fast; every pic that I take with this lens makes me look like a better photographer than I really am.

Having said that, if you're into "snap-shooting," the new AF-S VR might have the advantage in terms of focusing speed and vibration-reduction. It is 6 oz. heavier, but it does retail for about $75 or so less.

My guess: Nikkor 105mm f/2 DC AF for pretty girl's faces; Micro-Nikkor 105mm AF-S VR for bugs, butterflies and ugly faces (just kidding). (BTW, I would not consider a 105mm lens to be the optimum "street-snap" lens).
I own the 105mm AF-S VR Micro and on a digital body, I can certainly say, it is not a good street lens. The VR, AF-S and f/2.8 are all very good traits, but compared to the 18-70mm AF-S kit lens w/my D70s, it's got very limited applications. The 2.8 is very wonderful, the VR is immaculate but it's still too much crop. Remember, on a ditital body, it's the equivlient of a 150mm lens, which's very tele unless you want to shoot people and they aren't always willing. Beautiful portraiture lens btw.
I agreed with Bearclaw. I actually bought the AF 105 f/2 DC before revisiting this site and never look back.

I had some hesitation whether the price I paid was worthy (since the AF-S 105 f/2.8 VR is about the same price) because I was giving up VR and AF-S in the new 105 macro lens for just an extra stop in the old AF screw 105 DC.

After I've started to shoot the AF 105 f/2 DC wide open with my D200 however (to make a full-height subject stand out in a crowd on street snaps), there is really no other lens to substitute, except perhaps my AI-S 180 f/2.8 on film bodies.

The only disappointment I found is the slide-out shade which is really a cheap part compared to the solid AI-S 180 f/2.8.

Since Nikon is charging big bucks, I hope they can start to put an AF-S overhaul to their fixed focal lens lineup (
Since this is a macro lens, the performance at the minimum aperture should be much more important than at the maximum aperture. It seems to me that if you want high quality and adequate depth of field, you should use a large format macro lens when your subject allows.
This is one of the classist lenses around, period. Well-made. Sharp. Fast. The bokeh is beyond reproach. VR is very effective too. Focus-limiter makes AF-S immediate for 'street-shooting'.

A lens of many applications.

Buy one!
I have the 105mm F2DC and I have tested it out as a walk around lens. It handles great and it makes you a better photographer than you really are because of it being F2. The AF is real nice on this and I have used it at parties with the SB-800 at F2.8 for candid headshots.
I don't have the new 105VR but I have the non VR version 105mm F2.8AFD. It hunts quite a bit but when set on MF it cannot be beat for flower closeups or close headshots (very sharp).
Now, here is an idea; take the 105 F2DC and put a closeup two element 72mm diopter on it. Then, shoot some flowers at F2.
To update my last post; I have been using the 105mm F2 DC more and more and I have sold my 105mm F2.8 AFD Micro Nikkor. I did not need two 105mm lenses in my kit if one was going to sit in the closet. The Micro Nikkor was very sharp as are all of the Micro Nikkors but they are not made for general photography, although they may be used that way if you know what you are doing and can live within their limitations. The biggest limitation was its tendancy to hunt in low light situations. I suggest that if you shoot people, get a 105mm F2DC or one of the 85mm lenses or just use your 50mm on digital for a portrait lens.
Leave the Micro Nikkors to those who make their living doing close-up work. Otherwise, use a closeup filter. I had the 105mm F2.8 MF AIS and the 55mm F2.8 MF AIS also and I sold them for lack of use. I speak from my experience. Decide if you really need a Micro.
I have to second the above post by williamkaz: After trying my new AF-S VR Micro-Nikkor 105mm for a while, I have decided to sell it in favor of my old 105mm f/2 DC. The Micro Nikkor is very sharp (MTFs as tested by Photozone are excellent) and its AF-S focusing is usually quicker. It is also nice having a dedicated macro lens. But on the downside, the Micro Nikkor is bigger, heavier, one f-stop slower, and I was disappointed to discover that the VR reduction does not work as well for extreme close-ups. While the latter complaint may not matter to real macro photographers, I had kinda hoped to be able to use the VR feature for candid close-up shots without lugging around a tripod (okay, maybe this was a bit unrealistic).

In short, I like the newer Micro Nikkor, but I find the classic 105mm F2 DC to be more compatible with my needs.
Add your message
Login required
Please
login here
or if you've not registered, you can
register here
. Registering is
safe, quick and free
.
photodo Stats
1102 lenses
428 MTF tests
74 in-depth photodo reviews
100+ users join each day
Help the lens community by reviewing or rating a lens today via our
lens search