Ricoh Imaging Introduce New Pentax FA Limited Lenses
HD PENTAX FA-Limited Series - perfecting the tradition of SLR photography
Building on the long tradition of PENTAX Limited Edition lenses, RICOH COMPANY, LTD. and RICOH IMAGING COMPANY, LTD are pleased to announce three new editions to the three HD PENTAX-FA Limited lenses – featuring the original PENTAX HD coating, which now significantly enhances the lenses by minimising light reflections and ghosting.
When PENTAX first introduced the 'Limited Series' some 25 years ago, they were developed at the time of traditional SLR technology. The first thing that caught the eye were the focal length designations. A wide-angle, with 31 mm, a standard lens with 43 mm and a portrait lens with 77 mm formed a series, offering a high standard in imaging quality and technical construction. Attention to these details make these lenses special masterpieces. The original character has stood the test of time, and again provided the foundation of the new HD PENTAX-FA Limited series:
HD PENTAX-FA 31mm F1.8 Limited
HD PENTAX-FA 43mm F1.9 Limited
HD PENTAX-FA 77mm F1.8 Limited
Due to the sophisticated manufacturing process, each of these lenses is a masterpiece and was already the reason for many photographers to opt for this system in the days of analogue photography. A 35mm camera with three fixed focal lengths is a set-up that, even today in digital photography, represents a special approach and shows respect for traditional photography. PENTAX has decided to remain true to the philosophy that has been at the forefront of many new techniques since the beginning of camera production in Japan and is still the standard in modern photographic technology today.
And so we also find in the new series focal lengths that correspond directly to the technical calculation and are not rounded to the nearest number in order to better fit into a line-up. Also, a rather unusual feature today is the mechanical aperture selection directly on the lens with the matching depth-of-field scale above the aperture ring. A small but intricate detail are the markings on the aluminium bodies of the lenses, which make it possible to change lenses without looking.
The lens elements are treated with the multi-layer HD (High Definition) coating developed by PENTAX. Compared to conventional coatings, it offers a significantly higher light transmission with low reflection (up to 50 % compared to conventional coat-ings). This allows for maximum contrast and sharpness without flare and ghosting - even under difficult conditions such as backlighting. This is made possible by an exclusive PENTAX special manufacturing process, where a high-density coating is applied with high precision at the nanometre level. Which also has an extremely high hardness for superior durability.
In addition, the front lenses are provided with the original PENTAX SP (Super Protect) Coating. A fluorine coating protects the lens surface and has a repellent effect that not only repels dust, water and grease, but also makes it easier to wipe these substances off the lens surface. It is also highly resistant to abrasion and scratching and helps to keep the lens in top condition.
With the new HD PENTAX FA-Limited series, PENTAX follows its basic principles and stands for outstanding image reproduction with high detail fidelity with sharp and clear image reproduction, free from flare and ghosting.
The lenses are supplied with a built-in or corresponding screw-in lens hood and an exclusive lens cap, also made of aluminium, as well as a lens bag. They are each offered in silver (serial numbers starting with 00001) and black (serial numbers starting with 10001).
The lenses in detail
HD PENTAX-FA 31mm f/1.8 Limited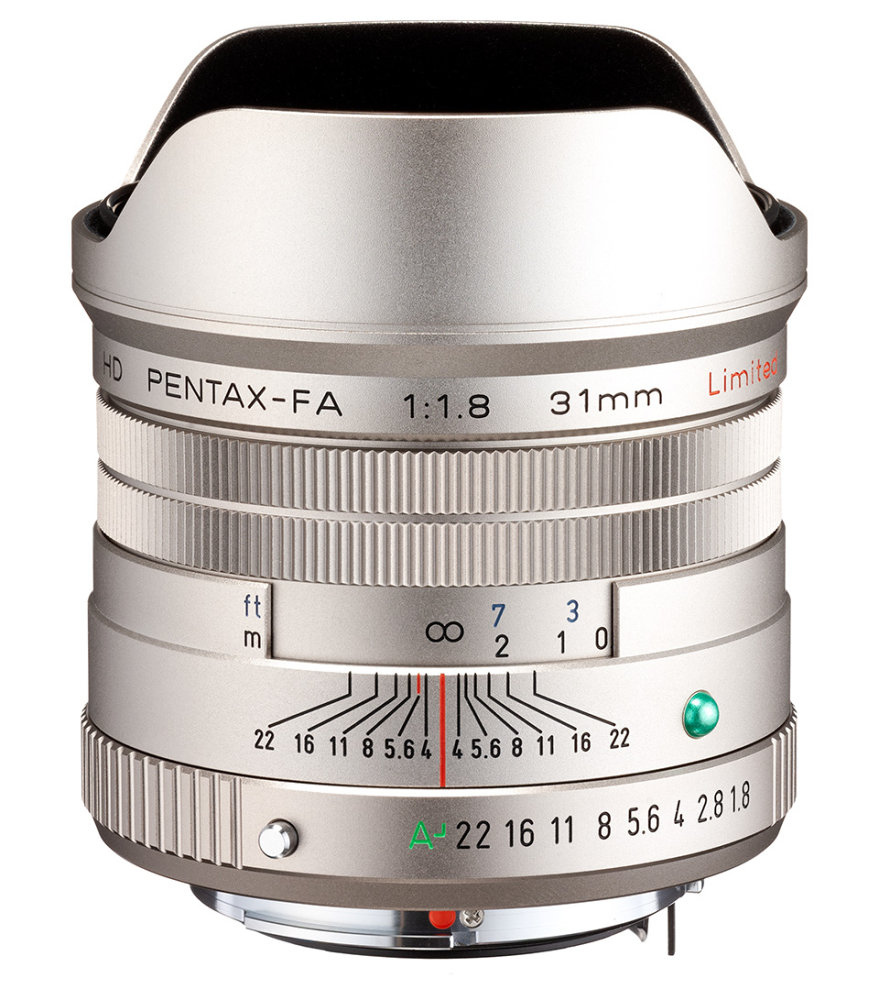 The wide-angle lens in the series is very versatile. The large aperture allows you to play with the depth of field, which can be a valuable design tool for landscape or street photography. But this lens also offers sharp imaging performance with natural perspective and high contrast for architectural shots.
With its neutral imaging, the HD PENTAX-FA 31mmF1.8 Limited captures the atmosphere of the current situation and is therefore also perfect for taking snapshots.
The HD PENTAX-FA 31mmF1.8 Limited will be available in black or silver from March 2021.
HD PENTAX-FA 43mm f/1.9 Limited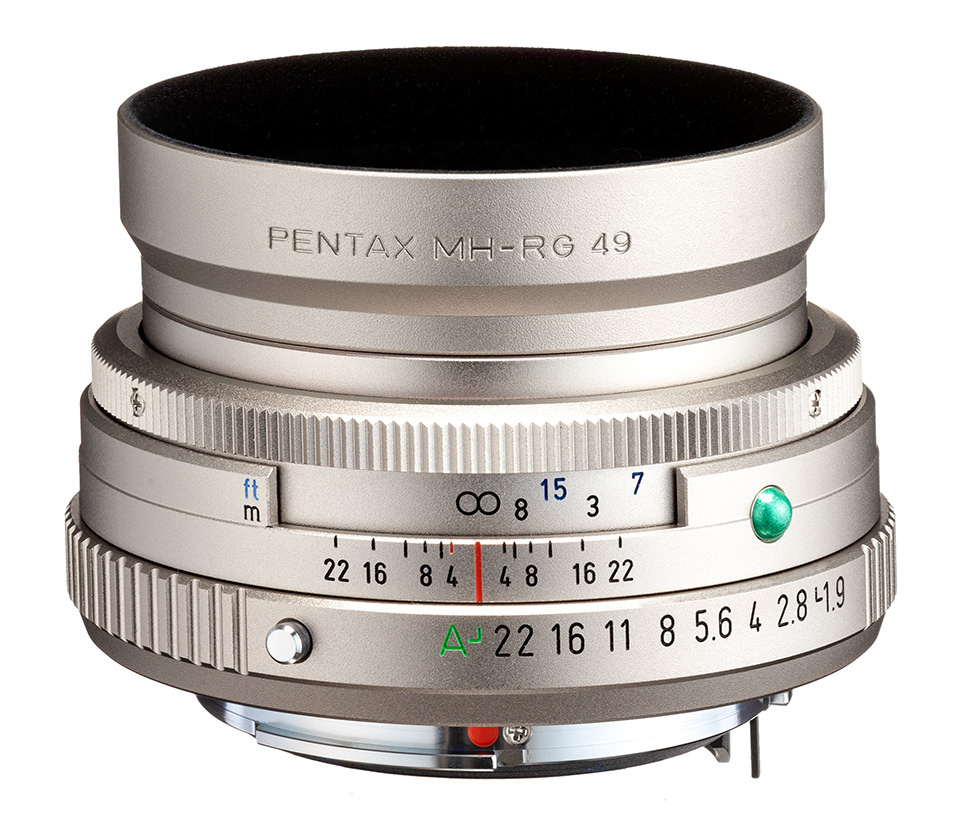 In purely mathematical terms, the standard lens of the series with its focal length of 43 mm corresponds exactly to the diagonal of the image sensor of a 35mm full-frame camera, and thus to the natural angle of vision of the human eye.
The smoothness and richness of tonal gradation give a sense of three-dimensionality. An impressive effect that many photographers particularly appreciate about the PENTAX system.
The high light intensity in combination with the bright and large viewfinder of a PENTAX SLR camera offers a special experience when taking pictures.
The HD PENTAX-FA 43mmF1.9 Limited will be available in black or silver from March 2021.
HD PENTAX-FA 77mm f/1.8 Limited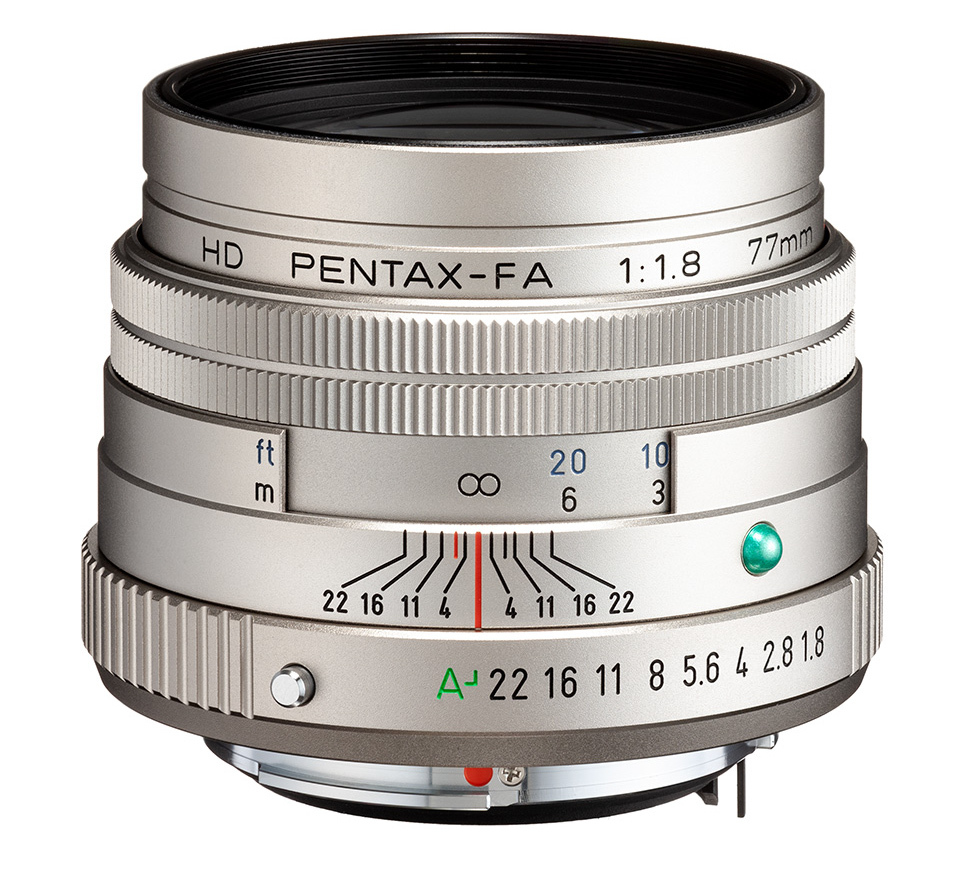 The lens with a moderate telephoto focal length is perfect for portraits. Thanks to the optimal correction of chromatic aberrations, it is able to precisely reproduce even the finest details, such as hair.
The fast F1.8 aperture offers crop possibilities and when stopped down to F4, it offers a delicate bokeh effect that suits portrait photography well.
The HD PENTAX-FA 77mmF1.8 Limited will be available in black or silver from March 2021.
The Five Principles of PENTAX
1. We design new cameras through sheer devotion.
It is our intention to produce cameras that will be the preferred choice for photo enthusiasts, because we love photography and have an in-depth knowledge and understanding of cameras.
2. Our goal is to produce cameras with the power to capture images that allow for direct communication with the subject.
We intend to design cameras that create memorable images, that make us feel as if we're connecting directly with the subject, capturing our imagination and captivating our senses.
3. We design cameras that allow our users to enjoy all the processes involved in taking a picture.
We pursue every essential element involved in the joy of photography. From looking through the viewfinder to composing the image, focusing on the subject and releasing the shutter.
4. We pursue a level of quality and performance that can't be measured by numbers alone.
We produce our cameras not only by pursuing higher performance based on numerical values, but by integrating our designers' sensory feedback into the design and development.
5. We respect and value the photographic experiences of our users and view this as an invaluable asset.
We want to share all the inspiring experiences of our users, from the hardware to the shooting processes, creating and viewing the images.

Add your message
Login required
Please
login here
or if you've not registered, you can
register here
. Registering is
safe, quick and free
.
photodo Stats
1102 lenses
428 MTF tests
74 in-depth photodo reviews
100+ users join each day
Help the lens community by reviewing or rating a lens today via our
lens search