Using Tamron's 24-70mm For Interior Photography
Advertising Promotion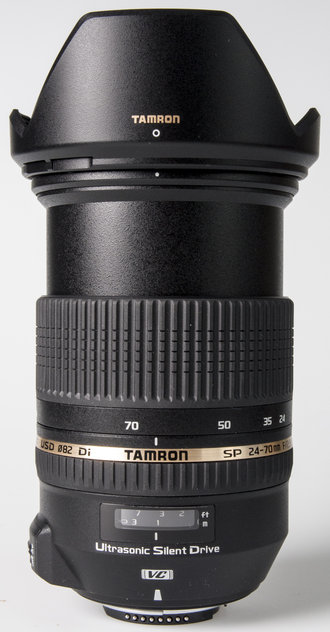 ePHOTOzine reviewed
Tamron's SP 24-70mm f/2.8 Di VC USD
lens earlier in the year and the optical performance broke out of the top of the graph where the lens quality peaked at the mid aperture range. This is great credit to a lens that has a zoom range of 24-70mm as this sort of quality is usually held by prime (fixed focal length) lenses.
The European Imaging and Sound Association (EISA) awarded the lens EUROPEAN LENS 2012-2013 and said:
"It truly feels like a professional lens and also performs like one when autofocus, image stabilisation and image quality is concerned."
So to have a lens with a wide angle, that's fine for landscapes and interiors, and a short telephoto, that's perfect for portraits, all in one makes this a serious product for the general photographer.
The other thing is this lens has an f/2.8 aperture throughout the zoom range, so this puts it well and truly under the professional photographer's radar too.
Add to this the Ultrasonic Silent Drive and you have a lens that can be used comfortably for nature and photo journalism or in interiors and quiet places where silence is often of the essence.
And if that's not enough, consider a Vibration Compensation (VC) system to keep the lens steady so you can shoot sharper photos hand held and you have a lens that is capable of delivering stunning results in more difficult lighting conditions.
As EISA stated - it's
"A lens to rely on, whether you are photographing for a living or simply for pleasure."
Comments from members at the end of the ePHOTOzine review suggest that VC is a waste of time on a lens of this focal length range. Well that's untrue. Photographers may have read that VC is only necessary on lenses with long focal lengths - telephotos and tele zooms, but camera shake will occur on any lens in low light conditions. So if you wanted to use this lens for travel photography you could continue shooting in the Marrakesh souk when other photographers have packed up, thanks to the wide aperture and the four stops assistance from the VC. With this lens it's much easier to shoot at speeds as low as 1/2 second and get sharp results.
And to prove this fact and test out the lens' ability to record straight lines and shoot wide open we took it to Lincoln Cathedral and spent a few hours shooting from different viewpoints.
First, let's see the VC in action:
This shot of a bookcase was taken with the lens hand-held at 70mm. The camera's ISO was set at 800 and the lens aperture was f/5.6, resulting in a 1/13sec shutter speed. The left photo is the result with VC switched off and the right is the same scene with VC switched on. From a distance both seem ok, but when you magnify, as you would if you wanted to make a larger print for the wall, you can see the blur caused by camera shake. And as you see VC really does help.
| | |
| --- | --- |
| Tamron 24-70mm VC Test - without VC | Tamron 24-70mm VC Test with VC |
| Tamron 24-70mm VC Test - cropped without VC | Tamron 24-70mm VC Test - cropped with VC |
Interior photography is often a challenge. Light conditions are never perfect and you usually have to raise ISO or employ a tripod. The problem with many buildings is tripods are not allowed and photography is sometimes seen as intrusive. National Trust / English Heritage properties and Stately Homes trusts don't like you wandering around with a backpack full of camera gear, so you're often asked to leave that behind. Imagine if you had a bag full of lenses! Which would you take with you? The 24-70mm is all you need and with its f/2.8 aperture and VC system means you could leave the tripod at home too.
We used a Nikon D200 which starts to struggle when you go beyond ISO400 and in Lincoln Cathedral speeds were in the 1/2 to 1/15sec range. A perfect opportunity to put the 28-70mm's VC system to the test.
The lens has a switch on the side to turn VC on and off. If you use a tripod you turn VC off as it's not needed. In the on position you will see the image float slightly in the viewfinder. This Tamron lens uses a special mechanism to detect movement and adjust the internal VC lens element in smooth unison with the movement, so the image stays at a fixed point when it reaches the sensor.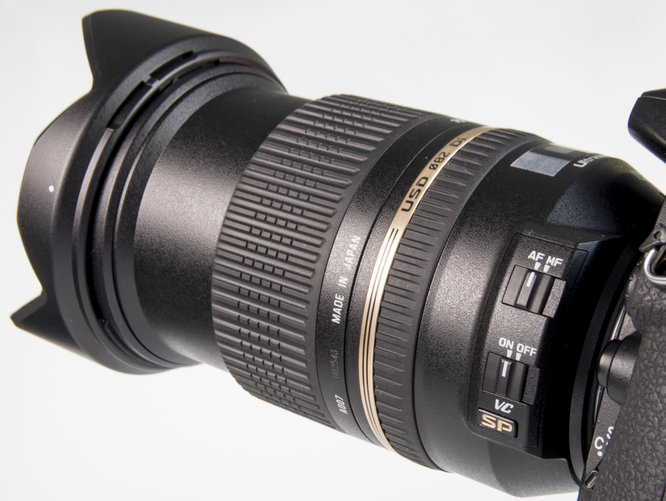 Tamron 24-70mm VC - on/off Switch and autofocus / manual focus switch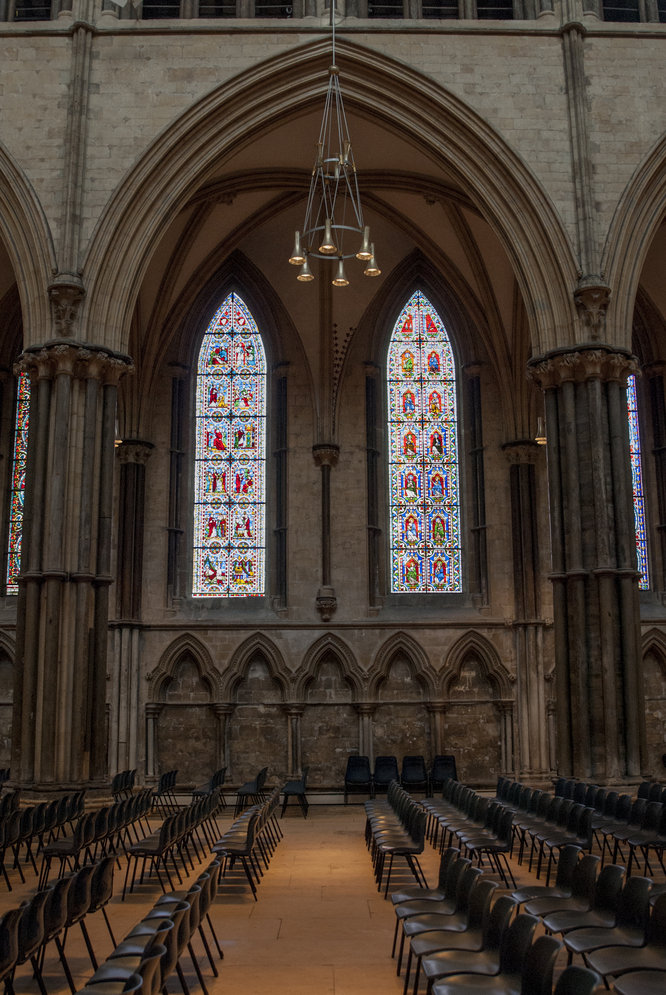 Lens set at 24mm with an exposure of 1/20 sec at f/3.5 and ISO 400.

There's minimal distortion and vertical lines are straight, as seen in the shots above and below.

Pointing up with an exposure of 1/6 sec at f/2.8 and ISO 400. Lens set to 24mm.

Optical performance is exceptional thanks to the special optics, including three LD (Low Dispersion) lenses and two XR (Extra Refractive Index) lenses.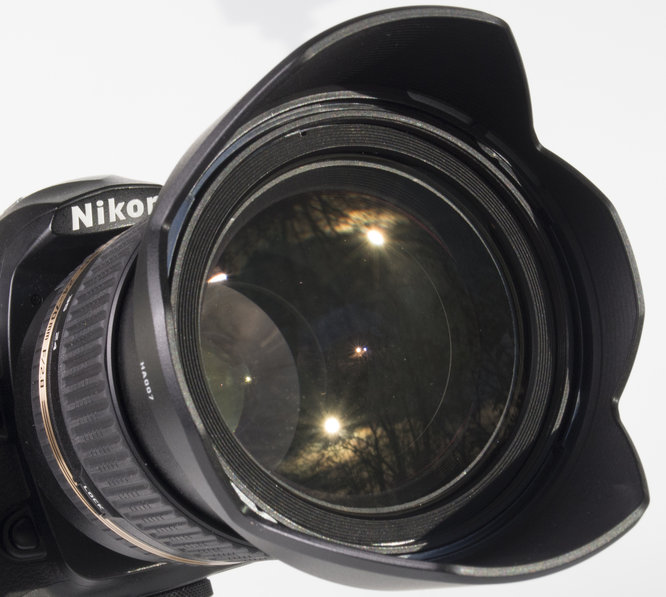 Flare is kept to a minimum thanks to the lens' special optical construction and custom detachable petal style lens hood.


Also notice the out of focus highlights are circular. This is due to the nine blades being shaped to make a circular aperture.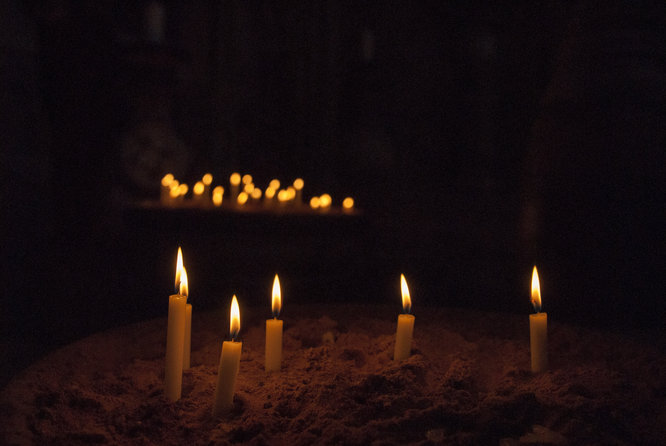 Candles used for prayer, taken with a fast 1/800 sec at f/2.8 and ISO 400. The background ones have pleasing circular out of focus highlights known as bokeh. This can be seen in the background of the shot of books below.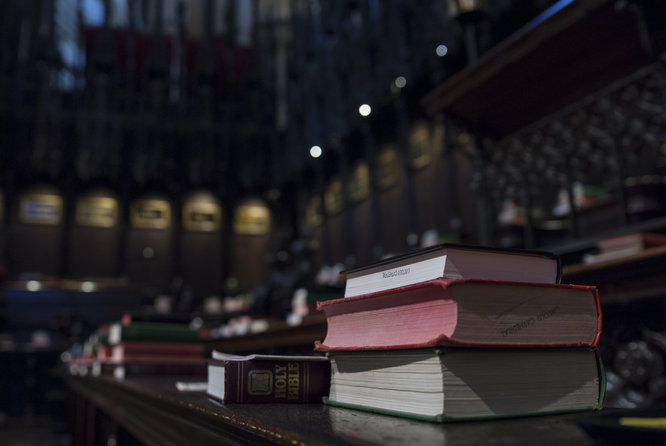 The exposure for this was 0.3 sec at f/2.8 and ISO 400 - lens at 24mm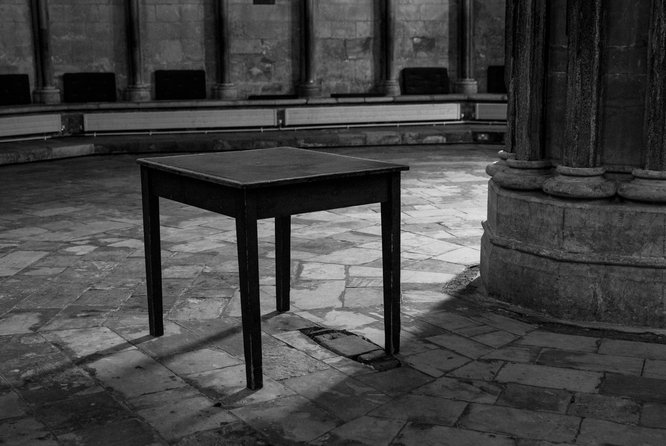 This table was in an area of light cast from an open external door. The conditions were a high contrast range which the lens coped well with and the conversion to black & white suits the scene. 1/10 sec at f/2.8 and ISO 400. The lens was at 35mm.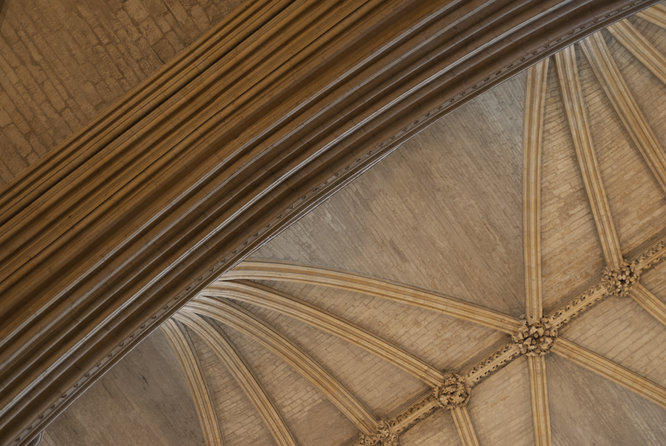 Looking around for creative abstracts is easy when you have the flexibility of a lens with a zoom. Here it was set to 40mm to make a slightly tighter framed composition, which becomes graphical. 1/5 sec at f/2.8 and ISO 400.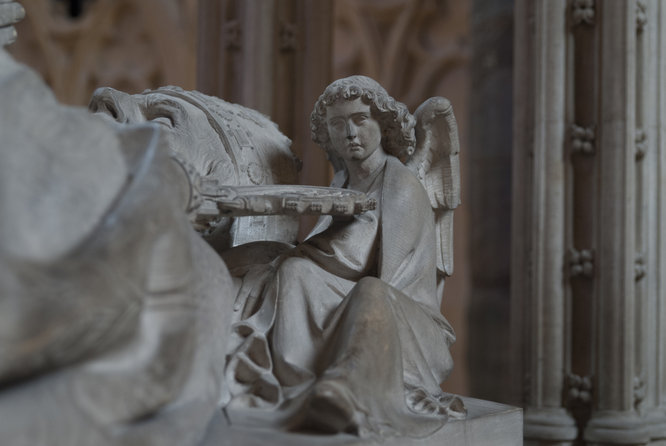 At 50mm the lens starts to become good for isolating smaller detail and the telephoto gives a little more 3d-like results. You do normally have to start to consider shutter speed but here a slow speed of just 0.3 sec at f/2.8 was possible, thanks to the VC system.
The Tamron SP 24-70mm f/2.8 Di VC USD can be used on full frame cameras such as the Nikon D700, but is equally at home with a standard smaller DX sensor camera like the Nikon D200 used here. It's available in Nikon and Canon mounts – and a version without VC is available for Sony / Minolta users.
Tamron 24-70mm compared with the camera brands
| | | | | | | |
| --- | --- | --- | --- | --- | --- | --- |
| Model | Close Focus | Filter size | Length | Diameter | Weight | Blades |
| Canon 24-70mm | 0.38m | 77mm | 123.5mm | 83.2mm | 950g | 8 |
| Nikon 24-70mm | 0.38m | 77mm | 133mm | 83mm | 900g | 9 (rounded) |
| Tamron 24-70mm | 0.38m | 82mm | 116.9mm | 88.2mm | 825g | 9 (rounded) |
| Sony 24-70mm | 0.38m | 77mm | 111mm | 83mm | 955g | 9 |
Visit
Tamron's web site
for full details of the 24-70mm and the many other lenses in the Tamron Di range.
See the ePHOTOzine review here:
Tamron 24-70mm VC review
thank you for sharing

Add your message
Login required
Please
login here
or if you've not registered, you can
register here
. Registering is
safe, quick and free
.
photodo Stats
1102 lenses
428 MTF tests
74 in-depth photodo reviews
100+ users join each day
Help the lens community by reviewing or rating a lens today via our
lens search